Instagram shoppable posts was launched in the US last year, allowing a few companies to tag products in their posts. In March of this year, Instagram provided shoppable posts to more than 45 additional countries. That feature is now also available to approved influencers or brands who uses Instagram Business.
With over 800 million users visiting at least 1 business page or more a day, Instagram provides a potentially huge opportunity for e-commerce sites.
Previously, you could only add a link in your bio to drive traffic from Instagram to your landing pages. Instagram shoppable posts is a huge improvement for organic traffic and it changes the way people shop.
With shoppable links, brands have a golden opportunity to turn their Instagram accounts into visually appealing stores. You can add shoppable tags and information to your images and links to your website's products.
After you setup Instagram shoppable tags for your business, a shopping bag icon will appear in the corner of each shoppable image.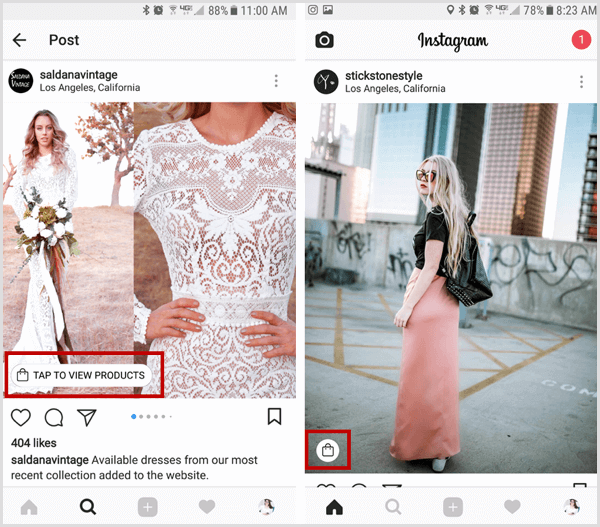 When people hover over the image, the shoppable product tags will appear, displaying the product label and price.
What are Shoppable Tags?
Instagram shoppable tags allow users to tap products in photos and purchase within the app. For example, if you go to @katespadeny and tap an image, tags will appear on handbags, clothing, and accessories with purchase information.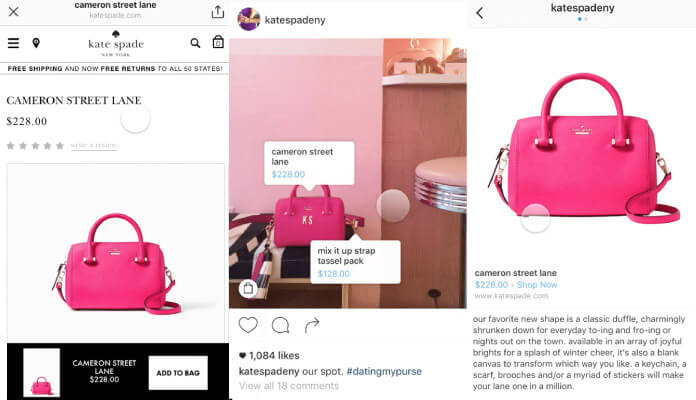 Shoppable tags (or product tags) are akin to tagging a person in a post. Once you're set up for product tagging, it's a one-click solution to highlight new items for people to purchase.
Last year, these shoppable tags were tested with larger brands such as Kate Spade New York, Warby Parker and Macy's. Now, with the new integrations, thousands of brands have the opportunity to include them.
The Instagram shoppable tags for posts feature is available to retailers that have a product catalog to connect to your business profile. Businesses in service industries can take advantage of this feature as well.
Businesses can also add one product sticker per story. You can use the sticker with swipe-up, highlights, and videos.
Managing an Instagram shop is available through BigCommerce, Facebook Business or Shopify accounts.
Wrapping it up
Two of the biggest holidays are rapidly closing in. If Instagram shoppable posts are appropriate for your brand, you should dash over there and get started setting it up. Better yet, our team can help you with that. Get in touch with us today to get your products on Instagram!
You may also enjoy reading: How To Create a Strong Brand Identity and Maintain It
About the Author
Hazel Burgess is the Founder and Creative Director of Envisager Studio, a premier website design agency specializing in WordPress website design, development and content marketing promotion. The company is based in San Diego, CA and works with companies that range from small business to enterprise level. Follow +Hazel Burgess on Google+ as well as Twitter.