How do you create a brand identity that tells a coherent, consistent story? A story that highlights your company's culture, products and services both visually and contextually. A well-designed brand identity coupled with a superb company culture can truly set you apart from your competitors.
There's a bit of misleading information about branding. We will briefly discuss how to create a brand identity and maintain it.
What is Brand Identity?
Your brand identity is defined by how your audience perceives you.
Strong brand identities stand above the crowd. For example, think about Pepsi, Google, Apple and Microsoft. When you think about these brands, you can visualize their logo. Further, you can imagine their brand identity just from thinking of their brand's name. Clearly, they are all better than their competitors because they are innovators and industry leaders. Their branding is rooted within their culture, company and marketing.
A brand identity should be impactful. It should be unforgettable and emanate individuality in its concept and meaning. This all originates from the design process. Extensive research and skilled design professionals are required in the branding process.
Your brand identity is more than just a logo and pretty colors. It's an entire system that encompasses the way your brand is visually marketed. This is why it's recommended to have professionals create your brand identity. They can create a coherent articulation of your company's unique brand values, personality traits and aspirations. The structure should include your brand colors, logo variations, shapes, and the appropriate context in which these elements should be used.
Once developed, your suite of versatile visual and verbal brand identities can be rolled out across all brand communications.
How to Create Your Brand Identity
It's important to provide your branding agency with as much information as possible on your business. This will help them give you best results possible to push your business further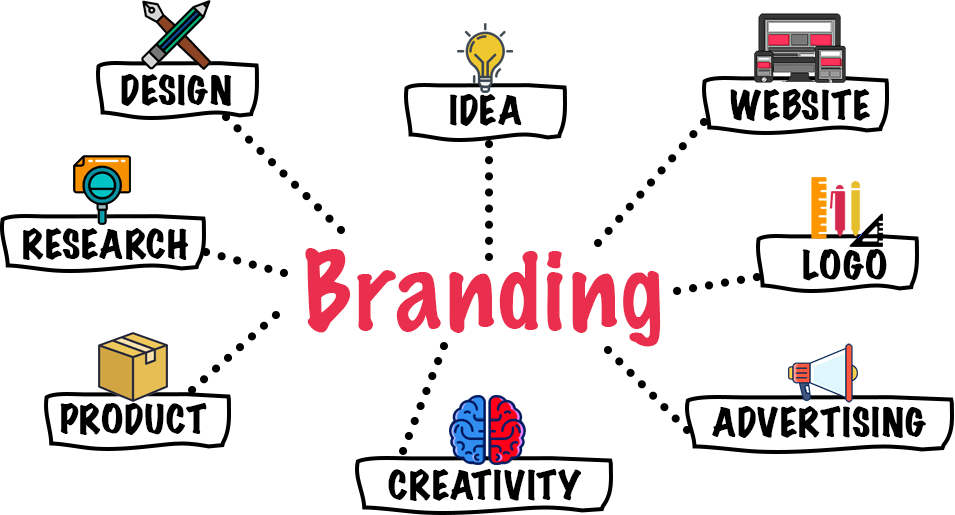 Here are a few questions to think about and share with your design agency:
Who will be looking after my brand?
Where will our logo be used?
Do you have examples of successful projects from previous clients?
Are you willing and able to work within our stated budget?
Why is your agency a good fit for our branding project?
What does branding mean to you?
What type of results are realistic for our budget?
Once you've received a first draft your brand assets, you will want to show it to your target audience. This is especially true for companies whose brands are well-documented and loved by their audience. When they decide to do a rebrand, sometimes they go too far left and it's not well-received by their target market. This can be detrimental misstep that can cost you customers and revenue.
So, ensure you're asking the design agency the right questions about their expertise, previous works, etc.
Maintaining
As the years past, you will need to reassess your branding to ensure it's in with the times. Coca Cola and Pepsi are excellent examples of this. If you look at their branding from 2003 or earlier variations, you can imagine how dated it would be today.
Make sure the changes are made across the board as well as updated brand guidelines. These guidelines should be distributed to all staff and stakeholders to ensure everyone is inline with the new assets.
Create a list or spreadsheet of the items that the new branding effects. This includes your website, social media cover images and profiles, videos, marketing collateral and more.
Interested in learning more about how to create your brand identity? Contact us today to see how we can create powerful branding for your company.
You may also enjoy reading: Internet Marketing For Small Business
About the Author
Hazel Burgess is the Founder and Creative Director of Envisager Studio, a premier website design agency specializing in WordPress website design, development and content marketing promotion. The company is based in San Diego, CA and works with companies that range from small business to enterprise level. Follow +Hazel Burgess on Google+ as well as Twitter.