Seeing your medical spa website top of Google is exciting!
Unfortunately, it has become increasingly difficult to rank organically for medical spa keyword phrases. This is due in part to the huge competition for the industry. But, mostly it's because more businesses than ever are doing Google Ads.
So, how do you get your medical spa top of Google?
As a spa owner you, you offer products and services that people are searching for. And, you may just need to make the search engines aware that you offer them to improve your search position.
To that end, here's what we will cover in this article:
I'll show you briefly how you you can accomplish the above tasks to improve your search performance and grow your business. Incidentally, many of the tasks can very time consuming. We know your focus is on running your business and we are happy to help you execute them. Just let us know.
In addition to the above list, there is a 6th way to improve your search visibility. You can buy your position using Google Ads, Bing Ads or Yahoo Ads. But, for this article, I'm only covering how to organically grow your business.
Let's get started!
Searching For Medical Spa Near Me
What do you get when you type in "medical spa near me" or "med spa near me" on Google? Does your medical spa immediately come up?
If you're a standing a few miles from your medical spa when you perform the search, chances are you'll see your spa. If you don't, that's what well cover today.
In fact, when people are searching for a medical spa, they are not standing close to that spa. Most likely, they are in a different city. Therefore, you have to make sure you show up in those situations also.
It's obviously important to have search visibility these days. And a high percentage of people will click on one of the medical spas on the first page. If your business didn't make it until the second page, the searcher may or may not go that far. There are many ways to boost your spa marketing. But ensuring that your medical spa appear in search is the most important aspect of any marketing strategy.
Implementing the correct SEO (search engine optimization) for your medical spa provides long term benefits.
Getting Your Medical Spa Top of Google
First things first. You need to have a website. No, Facebook is NOT your website. These days, it's not enough to just have a social presence. And, social platforms are not equipped nor designed to serve as a business' website.
Because the beauty industry is so highly competitive, you should have a professional online presence. Having a website design agency build a custom website for you that is optimized for search visibility is a great investment.
How your website shows up on Google.
Google's highly advanced algorithm uses over 200 factors to determine which website to show first on the search results page.
Google is not just a search engine, it's a business too. And their customers are people who search. In order for Google to serve their customers well, they show the best possible result to their question.
GOOGLE'S MISSION & VISION STATEMENTS:
"To organize the world's information and make it universally accessible and useful". Its vision statement is: "to provide an important service to the world-instantly delivering relevant information on virtually any topic".
Always remember these principles when trying to rank your website on Google. Because if Google doesn't know you have something people are searching for, you won't ever rank for anything.
Google Places used to be the platform to register your business for Google search results. Now, it's Google My Business (GMB).
You can register an abundance of details about your medical spa, including your location. This means when users search for "medical spa near me", Google can determine if your medical spa is in close proximity to the person and with your details.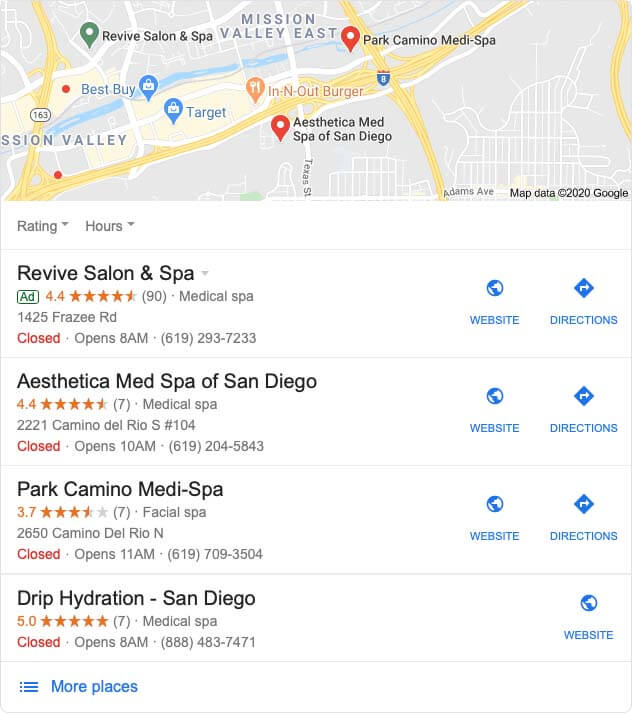 Having your medical spa details in GMB enables your business to be shown at top of Google search results with the map. In my example image, when I searched for "medical spa near me" in San Diego, there are medical spa businesses underneath the map. Plus, additional information such as website, opening hours and contact details.
By adding videos and photos, you can make this result even richer. Additionally, users can write reviews about their experience at your medical spa. Getting reviews is one of the best ways to authenticate the quality of your services.
I'm sure you're in agreement that you want your medical spa to appear here. As many of Google services are, Google My Business is free. You can learn more about the features and get started here.
A word about other search engines.
As of mid year 2019, Google has 77% of all search engine users. Still, there are additional search engines you should consider. They include Bing, Yahoo and Ask.com. If you sell products worldwide, you may want to consider Baidu and Yandex; also big search engines. These are in China and Russia, respectively.
However, I recommend that you start with Google first as other search engines works in similar ways. Once you're comfortable with using GMB and start to see search results, you can then move work with Bing, Yahoo, and others.
Get Your Medical Spa on Apple Maps
Statistically speaking, you're probably reading this article on an iPhone. In the USA, iPhone is the most widely used mobile device, with Samsung being a close second. While Google is still the champion for map searches, Apply Maps does get about 13% of searches. So, many people are searching for your medical spa using built in map apps.
Apple Maps is free, just like Google My Business. You can register your medical spa on Apple Maps here.
Set Up Your Medical Spa in Bing
The second largest search engine is Bing. And as of a few years ago, Yahoo! search is now powered by Bing. However, there are differences between Yahoo! and Bing search engine result pages (SERPs).
Collectively, Bing and Yahoo! make up about 30% of searches in the USA. Bing is similar to Google My Business with the exception of being called "Bing Places". It's also free to add your medical spa to Bing and you can get started with Bing Places here.
Ok, shrew! Your medical spa is now registered with the largest search engines. Congratulations! But wait. It's not enough to only register for Google My Business, Apple Maps, and Bing. To make sure you get your medical spa at top of Google, there are a few more things to do.
So, grab a fresh mug of java. It's time to discuss the strategies that will help boost your medical spa on Google.
If you build it, will they come? Yes, in this case Google will try hard for you. It will always try to match your medical spa with people who are look for medical spas in your area.
But, you must first provide a sufficient amount of information about your medical spa. Although this may be true, you're not the only medical spa in your city or town. And you want to outperform the others, correct?
To attain this, you'll need to know the searches people are making on Google. And the searches you would like your medical spa to appear. Then, you can optimize your medical spa website's content to emulate those searches.
People use words and phrases when they are searching for things. These are called "keywords" or "keyphrases". For instance, "best medical spa in San Diego".
After you've figured out which keywords and phrases are being used, strategically add them to you website's content. This includes your copy, meta description, page titles, internal links, and image alt descriptions. This will help Google to connect your medical spa with those words.
Also, try to use more long-tail keywords. For example, "best tattoo removal San Diego", versus short, "tattoo removal".
Your medical spa is now on its journey to start showing up at top of Google! You've listed your site with the largest search engines, and identified your medical spa's keywords. Also, you know how to find the appropriate keywords and use them throughout your website.
Super! Any day now, you'll start to see the results of your hard work.
Just a couple more things and we're done, I promise.
In addition to all the above, having other relevant sites link to yours builds trust with Google. When other websites link to you, Google construes that as a sign of trust from the other site. In turn, Google will rank your medical spa higher in the search results.
Your name, address, and phone number (NAP) should be cited accurately and consistently on other sites.
It's not only links to your site that help build credibility with Google. Your search performance will also improve if your medical spa details are referenced on other websites.
Yeah! We've finally reached the end.
There are a couple things you should do to ensure your medical spa website perform better in search results.
Your Medical Spa Website Should Be Mobile Friendly
It's no secret that the majority of today's web browsing takes place on a mobile device. And Google has stated many times, they've moved to mobile indexing first. So, it's important that your website adapts to smaller mobile screens for best user experience.
Google will promote your medical spa website in search results if it's mobile friendly. If you use a professional web design agency, this will already be handled for you.
Does Your Medical Spa Website Load Fast?
Since you already know that most people browse the web using a mobile device. More often than not, they are also on-the-go. So, have to wait 3 seconds or more for a website to load is unacceptable. Not to mention, poor user experience. If this is your situation, you should know that Google promotes fast loading websites over slow loading sites.
There are many available tools you can use to check your website's speed. GTmetrix is a free tool that analyzes your page's speed performance. It also generates scores for your pages and offers insight into what's causing the slowness. This information is valuable in helping you address and fix the issues.
Make Sure Your Medical Website is Secure
Previously, this mostly applied to websites that accepted credit cards. However, times have changed and so have website requirements.
A secure website is one that uses SSL (Secure Sockets Layer) and that the traffic is encrypted. There's a little lock in your browser and your web address starts with "https" versus "http". But that's not all that needs to be done to ensure your medical spa website is secure.
You have to ensure that components like the web server, database server, etc. are pathed up to date at all times. However, these technical aspects are handled by your hosting company.
Good job! You've now taken the appropriate steps towards getting your medical spa rank top of Google. I hope you feel empowered and that your time here was well spent. Having your medical spa at top of Google is an important action in growing your business long term.
About the Author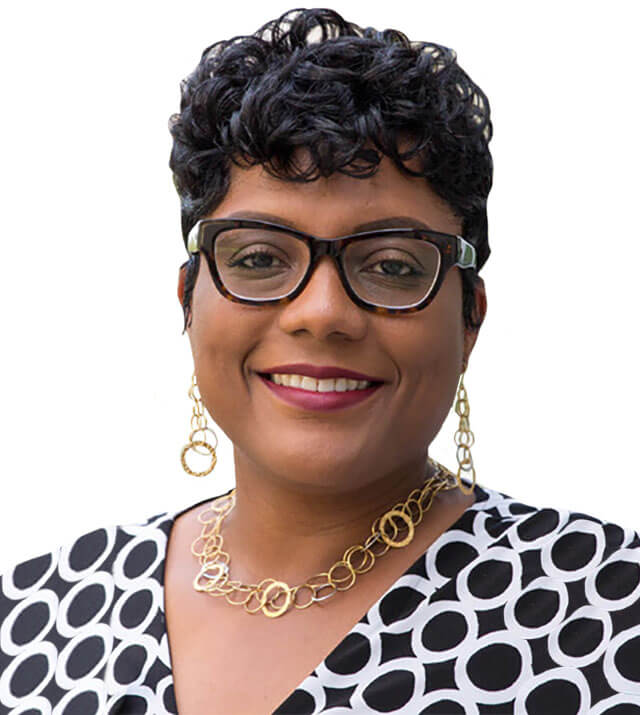 Dr. Amelia Royster-Davis is a Doctor of Education and an Instructional Designer. As the Director of Web Development at Envisager Studio, her primary focus is to lead the web development team in building modern, responsive websites. In her spare time, she writes about web development, UI and UX.
LinkedIn