Founded over 20 years ago, Envisager Studio has been working with clients around the world to provide web design, content marketing, and web development services. We produce technically-advanced WordPress sites that are based off of the client's needs and budget.
We wouldn't be where we are today without all of our great clients who leave reviews on our partnerships. Clutch is one company which helps publicize these reviews.
Clutch is a B2B ratings and reviews firm which highlights reviews from past clients on over 200,000 company profiles.
Our most recently reviewed project was creating a website for a hair supply company. We developed a logo, social media accounts, implemented pictures, and provided analytics for the social media.
The website runs smoothly, and we continue to help manage the website and other platforms and implement new ideas on how to improve them.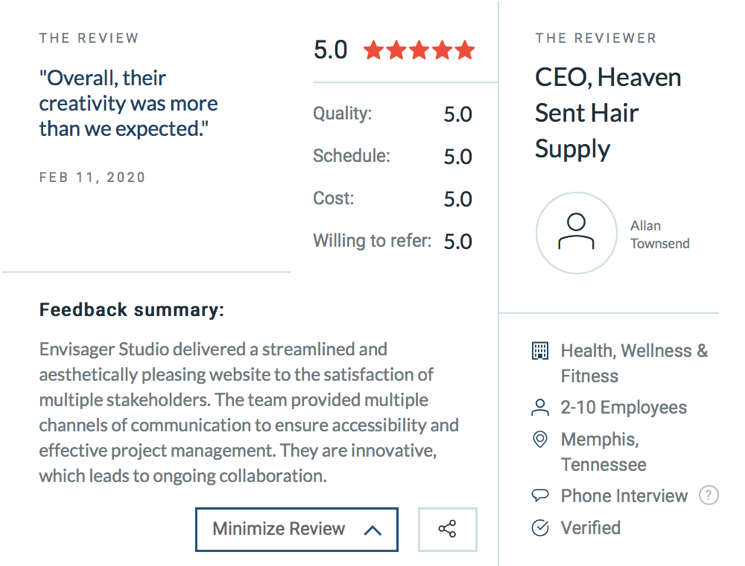 "Overall, their creativity was more than we expected."
-Allan Townsend, CEO at Heaven Sent Hair Supply
Envisager Studio Clutch Web Design Reviews
Another one of our projects we are extremely proud of is our website creation for a Peruvian restaurant! The client worked through guidelines with us of what information and content they wanted to include and then we developed based off of this. We also wanted to make sure we kept our rates as low as possible.
"They're so brilliant. Whenever we have promotions or last-minute work, they're always willing to help."
– José Miguel Ferrer López, Executive Chef at Lima Restaurant
Take a look at some of the other great things our clients have to say about us!
"They take the time to create all the necessary details to bring my ideas to life."
-Louticia Grier, Owner at A Diva's Hidden Hair Manufacturer
"I appreciate their thoroughness and dedication."
-Kristine Bockholdt, Practice Manager at Magnolia Medical & Aesthetics
"Envisager Studio is very literate in website formatting and functionality."
-Cecelia Johnson, Co-Owner at Uptown New York Style
Clutch has also been expanding as a business. They have launched a blog style sister called The Manifest which helps promote businesses. Envisager Studio has been featured as one of the leading firms in San Diego in web design services.
The Manifest also provides its users with industry data to help predict trends and guides to help solve everyday business challenges.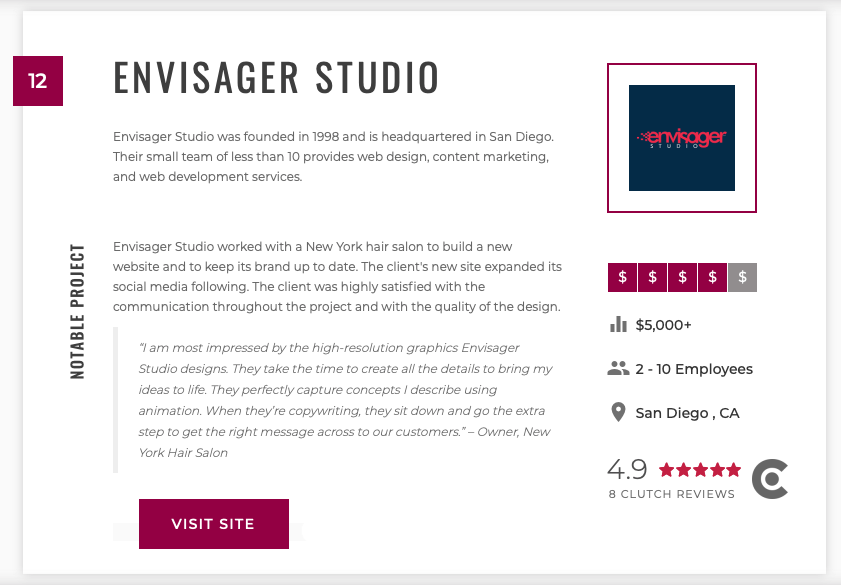 We are thankful for the continued support from our clients and the team over at Clutch for featuring our company. We're looking forward to growing in the years to come and hope you want to grow with us. Let us know if you have any questions or want to request a quote for a project.
You may also enjoy reading: How To Get Your Medical Spa Top of Google
About the Author
Hazel is the Founder & SEO Director at Envisager Studio, a premier website design agency specializing in WordPress website design, development and internet marketing. In her spare time, she writes about search engine optimization, website design, and internet marketing.
Facebook | Twitter | YouTube | LinkedIn