Client Showcase
MAGNOLIA MEDICAL & AESTHETICS
| SAN ANTONIO, TX
Project Type: Website • Marketing
Client Showcase
MAGNOLIA MEDICAL & AESTHETICS

SAN ANTONIO, TX
Project Type: Website • Marketing
Magnolia Medical & Aesthetics offers result-oriented medical and aesthetic treatments. Their new medical spa website design is now more complimentary to their products and services.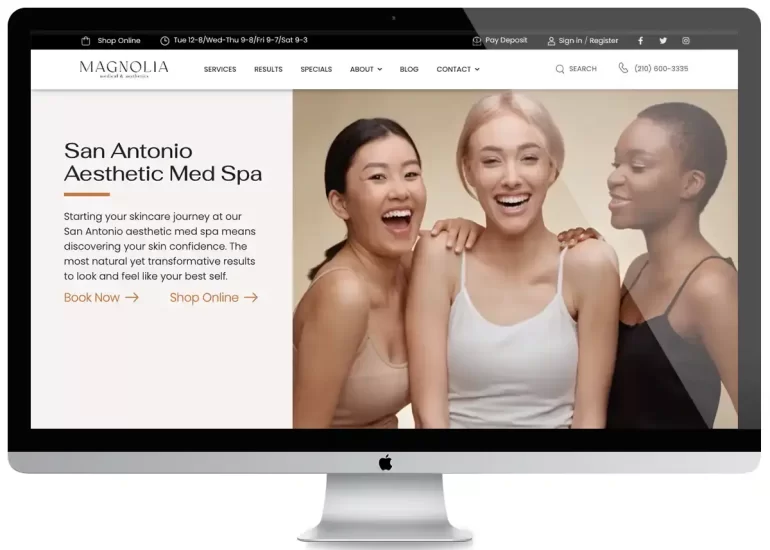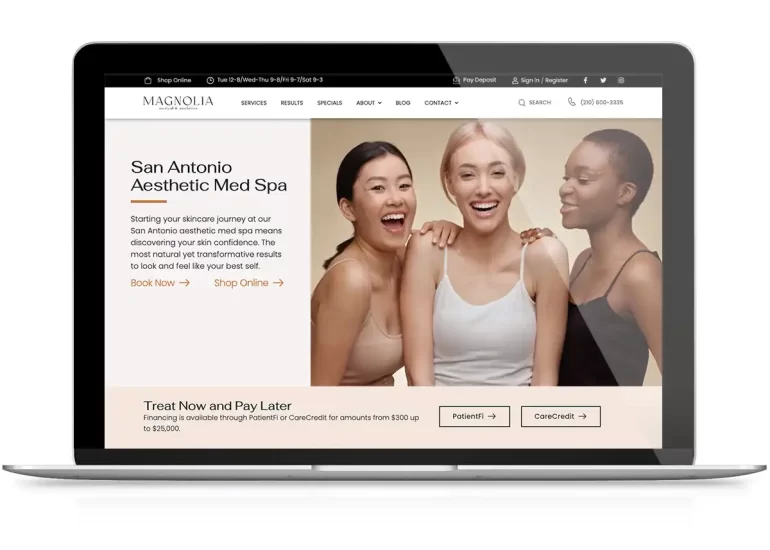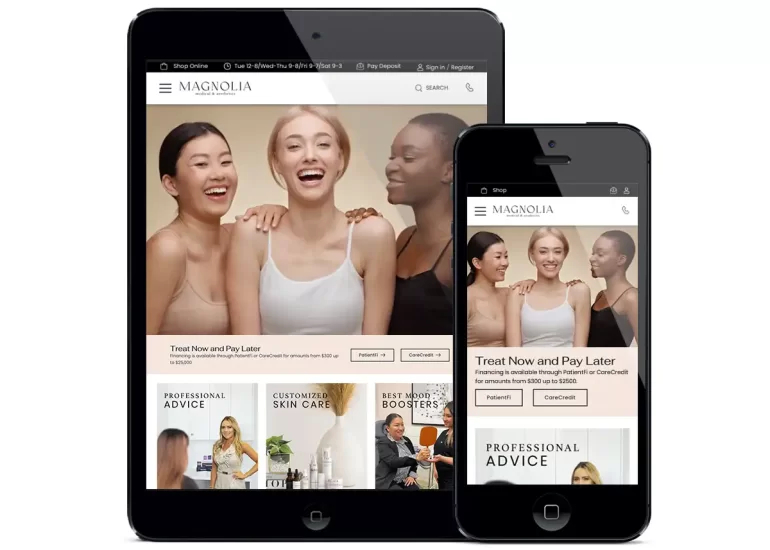 Medical Spa Website Design
Magnolia Medical & Aesthetics approached us for a medical spa website design to provide information to patients. They also wanted the med spa design to be different than the traditional medical spa website design. Envisager Studio understands the value of an optimized med spa website design. Not only were we eager to accommodate them, but we have the advanced med spa design skills.
Med Spa Design
One of the main criteria for this project, was to build a unique med spa design. So, we choose soft, calm colors of muted mauve, grays, and soft brown and green for accents. Additionally, patients with skin care needs will feel right at home in this new med spa design. This completed medical spa website design is relatively large with more than 50 pages. The site is clean, spacious, and each page is SEO optimized. If you're looking for spa website examples, have a look at Magnolia Medical & Aesthetics.
WEBSITE DESIGN & DEVELOPMENT
Art Direction
Web Design
Custom Graphics
Brand & Identity Integration
UI & UX Design
PHP / HTML / CSS
WordPress CMS
Website Features
Video Header
Online Scheduling
Photo Galleries
Mobile Responsive Design
Custom Blog
SPAM-Protected Forms
Branded Auto-Responders
Promotion
Constant Contact Integration
Social Media Icons
On-Page Thorough SEO
Monthly Service Treatment Offers
Extra Design Elements
Digital Art
Stock Photography
Photo Editing & Enhancement
WEBSITE DESIGN & DEVELOPMENT
Art Direction
Web Design
Custom Graphics
Brand & Identity Integration
UI & UX Design
PHP / HTML / CSS
WordPress CMS
Website Features
Video Header
Online Scheduling
Photo Galleries
Mobile Responsive Design
Custom Blog
SPAM-Protected Forms
Branded Auto-Responders
Promotion
Constant Contact Integration
Social Media Icons
On-Page Thorough SEO
Monthly Service Treatment Offers
Extra Design Elements
Digital Art
Stock Photography
Photo Editing & Enhancement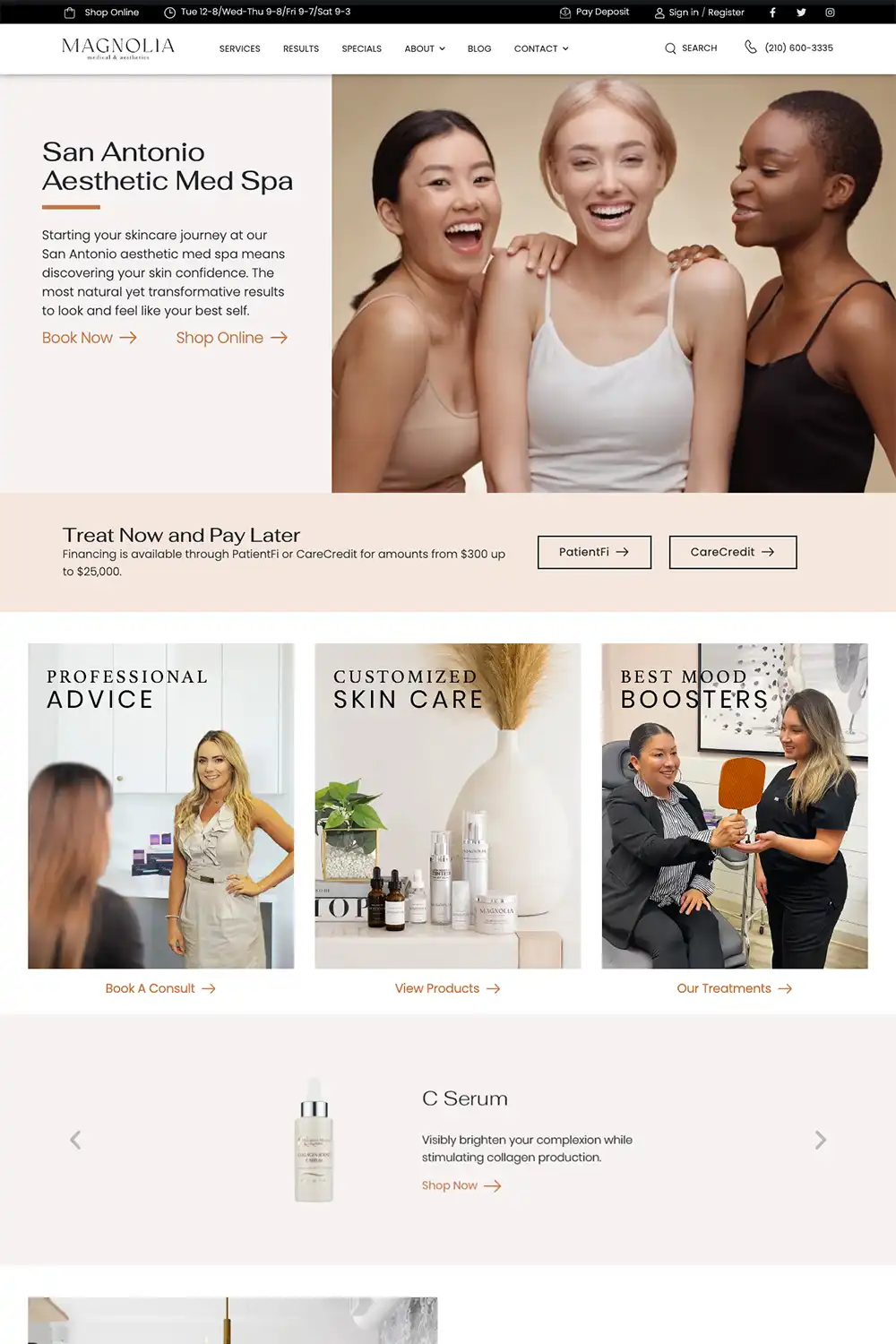 Magnolia Medical & Aesthetics San Antonio
08.26.19