While there are many different types of advertising methods to promote your business, we will cover the top 4 methods. Regardless if your website is new or you'll promoting an existing one, advertising can enhance your efforts.
Using traditional and digital types of advertising, there are many opportunities to drive sales and achieve brand awareness.
To help you wade through all the different types of advertising methods, we've divided the top methods into 4 categories. Once you understand the features of each one, you'll be more equipped to choose the best advertising method for your needs. After all, the point of advertising is to grow your business and not waste money.
4 Different Types of Advertising Methods
01. Cell Phone Mobile Advertising
Did you know Americans check their phones 262 times per day, which averages once every 5.5 minutes? Consequently, this is why marketers use mobile advertising as one of their preferred marketing platforms.
Mobile advertising allows you to push notification ads via SMS to your target customers. Given these points, you can send an offer via a URL to a landing page to take action.
Due to the extended reach and low cost, this type of advertising is very popular. And text message campaigns averages a 98% open rate.
02. Print
Print is one of the oldest and enduring types of advertising methods. This marketing method allows you to advertise your brand in physical printed brochures, newspapers and magazines.
Although different types of advertising methods such as digital is taking print market shares, it's still viable. There are many people who not only value, but also prefer holding printed content.
Brochures and Flyers
Brochures and flyers allow you to get into the physical hands of as many people as possible. Simply showcase your products and services in the printed content and either hand out or use a direct mailing service. You can also distribute them at events, outside on high traffic streets, or even in stores.
Newspapers and Magazines
Whether it's the Los Angeles Times or Good Housekeeping magazine, you can show promotions in these circulations. Most of them offer a full dedicated page or smaller ad placement with a few other business promotions.
But choose the types of magazines that are most popular in your area and that your audience usually reads. Even though some publications may have a large circulation, it may not available in your area.
03. Social Media Advertising
Social media marketing and advertising is not like other different types of advertising methods. It allows you to engage directly and dynamically with your audience. Personalizing your ad is a breeze for both targeting new customers and people who have engaged with the promotion.
In reality, the usage of social media is expanding with every passing day. And depending on your goals and target audience, there are several leading platforms to advertise on.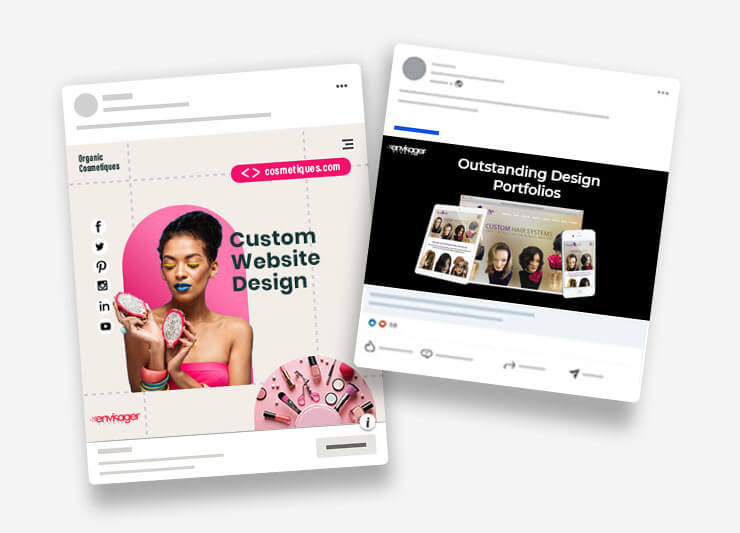 Facebook Advertising
Facebook ads have a reach of 2.1 billion people. Of course, depending on your products or service, not all will be your ideal audience. However, you'll be able to personalize your campaigns based on a focused objectives and your ideal audiences. Also, you can advertise across all Facebook networks including Instagram, Messenger or Audience Network. Most ads are based on pay-per-click and there's no minimum spend which is ideal for small businesses with a limited budget. Download our Facebook Ads guide for Medical Spas or Facebook Ads guide for Hair Salons & Stylists.
Instagram Ads
Not only does Instagram let you convert existing posts into ads, but you can also promote content in Stories. Reels is also available for promoting content as well as your audience's feed. However, choosing the right type of content is key. For instance, how-to tutorials tend to be the most popular.
After you construct your ad, decide where you want people to go – your website, another section on Instagram or elsewhere. If you have great products that you want to promote, Instagram also offers Shoppable Posts.
Promoting Content on Twitter
While Twitter has many ad formats, the standard promoted posts is the most popular. Your ad is displayed in audience's newsfeeds alongside organic tweets. Follow Ads which helps you boost visibility and your account is also popular. Your Twitter account is shown as a recommendation in The Who To Follow section.
Advertising on Pinterest
Like Instagram, Pinterest is very visual. The beauty of Pinterest ads though is that you're promoting a Pin. Their users are quite active when it comes to saving and sharing Pins for later. Thus, your promoted Pin has a high chance of being seen and action taken.
LinkedIn Advertising
Generally speaking, LinkedIn ads are more expensive than other social platforms. However, this is one of the different types of advertising methods that's more suited to B2B companies. All in all, you'll reach an audience of over 730 million users with sponsored messages, content, or ads.
04. Online Advertising
According to phone usage statistics, Americans spend an average of 6.31 hours on the internet daily. That equals to nearly an entire workday on a daily basis. This is one of the main reasons why more businesses are using online advertising. Because as they say, 'go where your customers are'.
Further, you can track your online campaign's reach in real-time. This is because analytics and other tools are built into digital ads. Thus, you can immediately see sales and other data which helps you to make quick changes for better performance.
With unique features to the different types of advertising methods, online advertising is more robust. Here are some of the available ad types:
Display Banners
Pay-Per-Click
Native Ads

Wrapping it Up

You no longer have to rely on expensive TV, Radio, or billboard ads to promote your business or services. In fact, online advertising has proven to be the most cost effective of all the different types of advertising methods. So, spend wisely and dominate the web!

About the Author

Christina is the Web Content Director at Envisager Studio. She leads the content creation process and ensures tone and key messaging personifies the client's brand and engages target markets. In her spare time, she writes about content marketing, content management, and website content.