Creating a great ecommerce customer experience for users will drive success in 2020
To create a great ecommerce customer experience for users in 2020, all forms of communication will matter. From the level of customer service you provide to your interaction on social media is important. Even the design of your newsletters you send out will have a significant impact.
Ecommerce is an area that is constantly evolving. And with so much opportunity for innovation, we see big changes across the industry every year. By adopting new technology trends with customers top of mind, retailers can win the hearts of users all over the globe.
Read on to learn how to create a great ecommerce customer experience for users in 2020.
Design For Ecommerce Mobile Users
Smartphone and tablet users are growing exponentially every day. And shopping via mobile devices is the hottest trend in the industry right now. But actually, this really shouldn't come as a surprise. Have you ever watched the people around you when you're out in public? Whether you're in an elevator, walking down the street, or in a grocery store, you'll quickly notice a pattern. Just about everyone is on their phone.
If your online store is not optimized for mobile, it needs to be. And now, versus waiting mid year. You could probably provide several reasons why it's not. But if you think about those reasons, are they just excuses? Ok, we'll make it easy for you.
Don't just take our word for it. Here are a few stats that prove the importance of an optimized mobile website:
Over 1.2 billion people worldwide access the internet from their smartphones. That's four times the population of the US!

According to Google's data, mobile searches for "best deals" have grown by 90%.

Missing out on a mobile-optimized website is like closing your store one day a week! (Source: Google).

80% of shoppers use a mobile phone inside of a physical store to either look up product reviews, compare prices or find alternative store locations.

81% of Americans owned a smartphone in 2019. Up 46% from six years ago, making the smartphone one of the fastest adopted technologies in history. For comparison, it took the landline telephone 45 years to reach the same level of adoption.
Make it Personal
Offer personalized service across touch points by leveraging customer insight and data. However, personalization is not a new concept. For years, shop owners have enticed customers to buy through personalized offers.
But as online stores become more popular and competitive, advanced personalization strategies must be implemented. Otherwise, it will be difficult to reach today's busy and jaded consumers. In fact, one study found that 80% of consumers are more likely to make a purchase when brands offer personalized experiences.

Personalized content is deemed one of the most effective tactics for optimizing the customer experience.
Get On Board with Social Commerce
It's been a rocky road getting social commerce off the ground. But thanks to integrations like Instagram Shoppable Posts, people are using social media to discover and buy products. While only available to a few select brands, you can now shop on Instagram without leaving the app.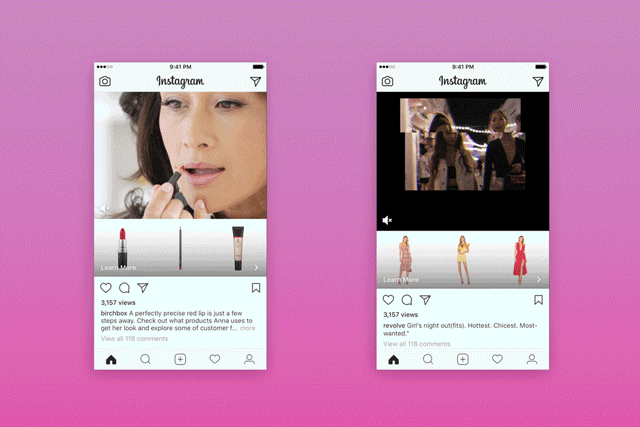 1,000 US consumers was recently surveyed for internet trends. Over half the people surveyed stated that they purchased products online after seeing them on social media. That number has risen significantly since the survey was conducted.
Expedite Delivery Methods
One and a half to two weeks for delivery is no longer acceptable. Of course, if it's a made-to-order product, that's a different story. But for the smart shopper, convenience is key to a great ecommerce customer experience in 2020.
Today, consumers are looking for speed and ease of use. How quickly can they find what they're searching for on your website or app? What's the delivery time? If your website is difficult to navigate or app too complex, you'll lose customers. And for the average product ship time, they expect delivery within a few days, not weeks. With trailblazers like Amazon offering same day delivery, long waits are unacceptable.
On-demand delivery will soon be the norm. In fact, Amazon has applied for a U.S. patent for a floating warehouse. The idea is that drones will deliver products from the aircraft down to your home.
And now let's volley to Walmart; Amazon's biggest competitor. Walmart has put self-scanning robots in more than 50 of its US stores. While employees can scan shelves for products that customers can't readily find, robots can do it much faster. So, lost sales are prevented. And equally important, happy customer.
Other experiments are happening to ensure a great customer experience. For example, Domino's is trying out a driverless car for its pizza deliveries.
When a customer has their order sooner than expected and intact, that's a great customer experience. Even the excitement of having their item delivered in a different way adds enhances the experience.
This is just the beginning. Over the next few years, we'll see more innovative delivery methods.
Wrapping It Up
Now that you know more about creating a great customer experience, it's time to make your 2020 plan. The truth is, many retailers have embraced the fact that incredible customer experiences is their secret power. However, as time passes, it will require more effort and creativity to retain loyal customers.
Indeed, it's a wonderful era that we're in. Albeit it difficult, sometimes even uncertain what the ecommerce customer experience will look like in another 10 years. But if what we're experiencing now is any indication, it should be exciting and engaging! Make sure your ecommerce site is ready and framework is solid.
Our web design and marketing team are experienced ecommerce developers. Just let us know how we can help.
About the Author
Hazel Burgess is the Founder and Creative Director of Envisager Studio, a premier website design agency specializing in WordPress website design, development and content marketing promotion. The company is based in San Diego, CA and works with companies that range from small business to enterprise level. Follow @EnvisagerStudio on Facebook as well as Twitter.