The best home care website design goes beyond the traditional online brochure and list of services. It must convey why your home care agency is the right choice. Moreover, it should answer the right questions, and equally important, be easy to navigate. Effective marketing strategies for home care agencies include websites that are search engine optimized and drive inquiries for care.
From engaging content to quality designs, our skilled website designers are effective in developing the best home care website design. Thus, home care agencies reach a significant place in the digital marketing world.
Given these points, this article is about how to create the best home care website design for agencies and users.
Creating The Best Home Care Website Design
Envisager Studio has everything you need to boost traffic and convert site visitors to inquiries. Plus, with the support of our marketing team, the return on your investment is easily visualized.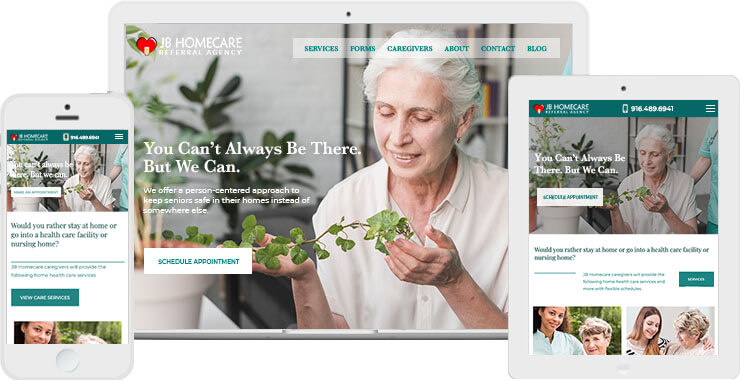 Beautiful home care agency websites are a great way to ensure potential customers spend time on your site. After all, you want to get the most out of your investment. And there are several functions website designers and developers need to consider during the development process. To be considered the best home care website design, home care agency websites should be:

Mobile Responsive – Responsive design ensures your website delivers a user-friendly experience across all devices.

Search Engine Optimized
– SEO is the lifeline for successful home care agency websites. It improves the quality and quantity of your website traffic.

Engaging
– A blog is a useful tool to regularly engage and communicate with your site visitors. Share helpful content about aging care topics.
Home Care Agency Websites
For whatever reason, many home care agency websites do not have a blog. And this is a highly overlooked, effective marketing tool. Not only does quality blog posts boost SEO, but they also provide valuable information for visitors.
Unless you have the expertise; branding, building, and updating your website is a recipe for disaster. This DIY approach rarely provides the professional results that the best home care website design exhibits. Additionally, your site should be unique to your competitors. This requires the skills of professional website designers to invoke the emotional connection and properly tell your brand story.
There's also the security and website maintenance aspects to consider. These systems need to be in place to not only protect your website, but also to protect users' data.
And how would you as a novice, generate internet-based referrals?
Website designers Tools For Home Care Agency Websites
Coupled with marketing strategies, website designers know how to help your care agency generate internet-based referrals. Many web design agencies also offer blog writing services.
Regularly blogging and sharing your posts drives traffic to home care agency websites. Of course, these articles are optimized for SEO and contain keywords people use to search for senior care.
To increase your opportunities for referrals, you can also ask clients to write online reviews. Not only are reviews important to consumers, but they are also important to search engines.
As can be seen by the difference stages of Google search results, SEO is always evolving. Therefore, it requires continuing work by experts who know home care and is well-informed about SEO updates. Thus, in order for your home care agency websites to remain effective, you'll need to pay close attention to these changes.
Home Care Agency Websites Should Avoid These Mistakes
Google pays close attention to whether or not a site is mobile responsive. As a care agency, don't be tricked into having a separate mobile website built for your agency. Because a mobile website is not the same thing as a mobile responsive site, you may have duplicate content. Ultimately, Google will penalized your sites for duplicate content.
Instead, have your main website built with responsiveness in mind to display properly on each device.
Website designers and care agency site owners should be aware that Google also watches the load time of site pages. Ample site speed is recommended for both desktop and mobile sites.
While keywords are important for your pages' content, don't overuse them. This outdated process is known as 'keyword stuffing'. Besides, Google now has a more sensitive keyword reader.
Google's mission is to show users the highest quality websites related to their search query. Consequently, your content should be relevant and helpful to your care agency's unique clients.
Tracking The Results
Once your website is built, it's important to measure its performance. Are more visitors calling and saying they found you online? Do you have more visitors filling out your website forms and caregiver applications? These questions and more can be answered via your Google Analytics. So, make sure it's integrated with your website.
Above all, stay committed to these tips and focus on building a site that helps your clients and nets results. After all, isn't that what we all want?
You may also enjoy reading: 6 Best Small Business Blogging Tips
About the Author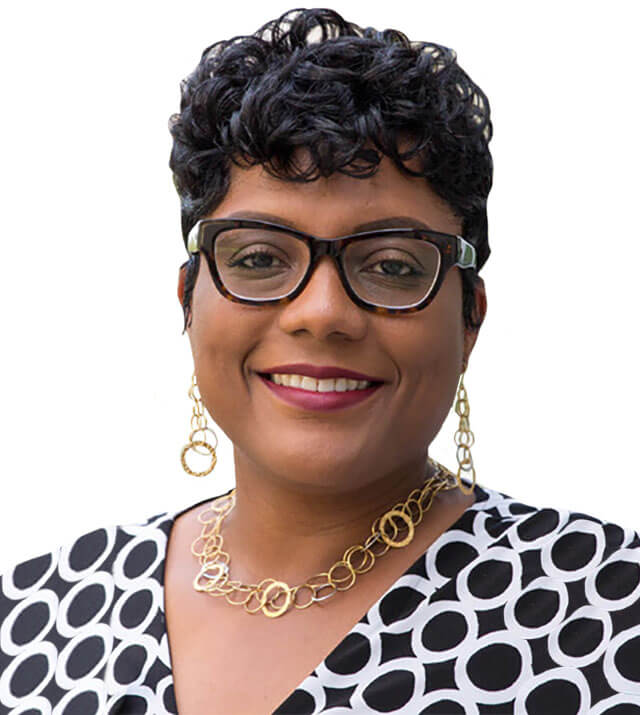 Dr. Amelia Royster-Davis is a Doctor of Education and an Instructional Designer. As the Director of Web Development at Envisager Studio, her primary focus is to lead the web development team in building modern, responsive websites. In her spare time, she writes about web development, UI and UX.