Accounting website design sounds complicated, but it's not. Because it has so many elements to consider, some people feel lost at first when trying to create their own site.
However, a professional website design agency helps take the dread out of design. In fact, a professional website designer can create engaging content without constant input from the business owner. In this accounting website design guide, you'll learn the key elements to consider and how a professional website design agency can make your website shine.
How To Create An Accounting Website
In the old days, websites were predominately built using only HTML. Perhaps some JavaScript was sprinkled here and there. But today, you just need the assistance of a professional designer who knows what they are doing.
Important Considerations For Your Accounting Website Design
There are a few moving parts you need to keep in mind when marketing your accounting website. First, the website should be approached from the client's perspective. By visualizing your site as a client do, we hone in on areas that catch your prospective client's attention. Given these points, here are some things we implement when going through the design process.
(1) Responsive Design Website
At Envisager Studio, responsive design is always at the forefront when we're building websites. We know that our clients' prospects are likely searching the internet using a mobile device such as a phone, tablet, or other mobile devices.
In the old days, developers created two types of websites; one for bigger screens and one for mobile. With responsive design, it is only necessary to build one type of website and apply media queriers using CSS to ensure the site looks great across all devices.
(2) Explain What You Do
Generally speaking, many accounting companies assume that potential clients know what accountants do. Since accounting is a general term entailing intricate financial details, many people don't really know the ins and outs of this service.
Given these points, you should take time to explain what you do on your website, rather than having people dig for answers. In essence, this information should be displayed on your homepage or About Us page.
(3) Attract The Right Audience
By targeting certain demographics, geographies, and search phrases, you ensure that the right people see your accounting website design. And the overall aesthetics of the site should match your typical demographic.
For example, if your clients are generally in their 40s, using references that only teenagers understand probably won't work. Instead, be aware of what your general audience does and doesn't know. Also use an appropriate voice that speaks to them.
What Pages Does Your Accounting Firm Need?
If the content is not right, the best looking website in the world won't be much use to you. Obviously, you want your online marketing to work, so your accounting website design needs a few key pages.
Homepage
The homepage is the face of your website and it evens says so with "home" in its name. Since most visitors start by visiting your homepage, you need to hook them so the browse the rest of your pages. And of course, purchase your services.
For this reason, an accounting firm website should answer a few questions on their homepage, such as:
* Who are you?
* What do you do?
* What should they choose you?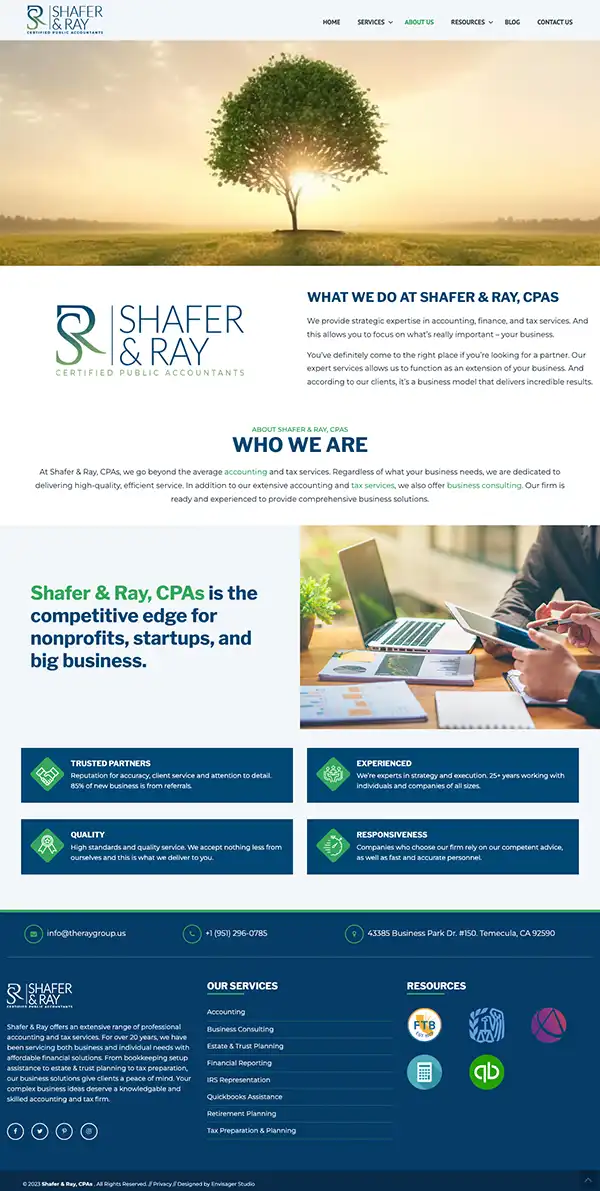 About Us
You get the opportunity to tell your story on the About Us page. In addition, this page should also explain what your firm does as well as who you are. By telling your story, you become familiar to the person reading the content. Consequently, you start feeling more like a friend to them, and not just a random company.
In essence, you show the personal side of your firm and explain how much industry knowledge you have. A strong About Us page boosts your brand awareness with a client and makes them feel more attached to your company.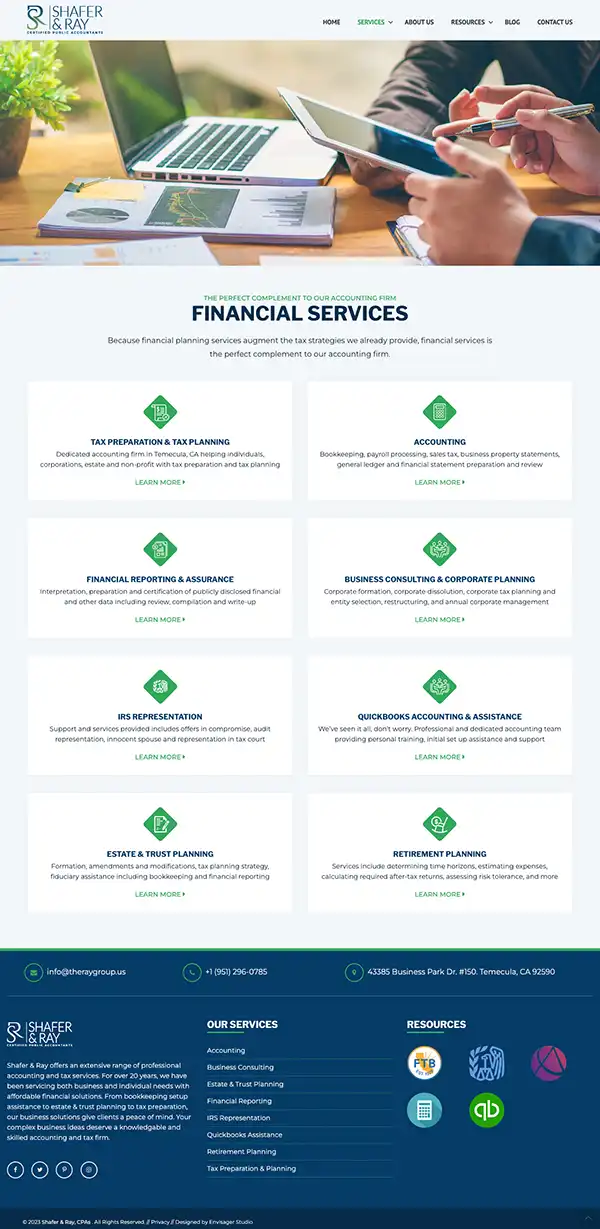 Services
The Service page of your website can go on and on. For instance, the accounting firm Services page above has different pages to explain the various categories of services that they offer. After you click one of the services white tabs on that page, you're directed to that particular service that provides more information about it.
Contact
Obviously, every website needs a contact page. However, we have seen many sites that don't have one. But the point of having a website is for the visitor to buy your products or services, and to be able to contact you. The ultimate goal of a website is to increase sales revenue.
Blog
Did you know that a blog is the best place to focus on search engine optimization? Articles can boosts your placement in Google search results as well as show your expertise to your clients. So, don't make the article be about your company. Instead, provide free information like tips and secrets about accounting.
You may also enjoy reading: Website Design Guide For Small Business (With Examples)
About the Author
Hazel is the Founder & SEO Director at Envisager Studio, a premier website design agency specializing in WordPress website design, development and internet marketing. In her spare time, she writes about search engine optimization, website design, and internet marketing.
| | |