What's the best SEO-friendly URL structure and what should you consider when choosing one? This blog post will answer these questions in 4 simple steps.
Website URLs play a major role in fetching more clicks. And they are the first element of a website that Google sees. Essentially, URLS are responsible for sending a user to their intended destination and form an organized website structure.
While it may seem easy to decide a URL, they can become problematic if done wrong. And if you don't plan ahead, you can get stuck in a vicious cycle of redirects.
Not only is a properly structured URL clear and concise, but it's also easier to share. In fact, according to a report by Backlinko, URLs are important for website ranking.
Here's why:
The length of the URL is #46 on Google's top 200 ranking factors.
Keyword in the URL is listed at #51.
The path of a URL is #47.
What is an SEO-Friendly URL?
A Uniform Resource Locator or URL is the address of a web page, containing the domain and/or subdomain name.
Examples:
There is also another part of the URL – permalink – that is composed of text depicting an explicit page.
Example: https://www.envisager.net/wordpress-for-small-business/
While the URL is always visible on search engines, it is also noticed when shared on social media.
Here's how a user perceives a URL.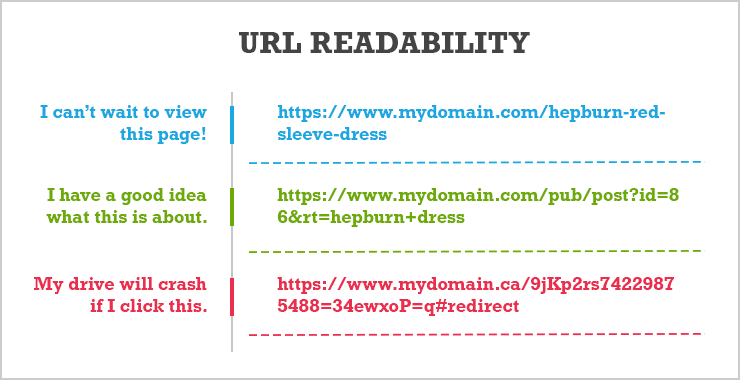 Generally speaking, most content management systems (CMSs) automatically form a URL upon the creation of a new page or post. However, you can edit the permalink part of it to optimize for search engines.
A website designer creates SEO-friendly URLs in order to help rank a website better. Additionally, these URLs are short and keyword-focused. Creating such URLs is one of the best practices of SEO in 2020. So, let's understand how to find keywords to create an SEO-friendly URL.
How To Look For Keywords to Create an SEO-Friendly URL
To compose an SEO-friendly URL that's advanced for search engines, you need the keywords for the ranking page. And the best keywords for your page would be the ones that:
Have little competition
Are directly related to the topic of the web page or your industry
Have a high search volume indicating that more people are looking for the term
You can find these keywords by using SEMrush or learn more about long tail SEO internal links.
Top 4 Steps to Create an SEO-Friendly URL Structure
To gain a competitive edge, it's essential to create a powerful URL structure and optimize it for top search engines.
While there are several steps to creating an SEO-friendly URL structure, we have listed the top 4 below.
1. Match URLs to Page Titles
Creating URLs that complement your page title can help you gain better search engine rankings. And the best way to do this is to create a permalink that summarizes the topic of the page.
Suppose your page title is 'WordPress Website Design For Small Business'. When a user performs a Google search and navigates to your site, the desired URL should coordinate with the page title.
For example:
Page title: WordPress Website Design For Small Business
An SEO-friendly URL: https://www.envisager.net/wordpress-website-design-for-small-business
It would appear in search results something like this:

Not only does this help search engines index your website, but it also builds brand authority and client trust.
2. Keep It Short and Simple (KISS Principle)
In a word, the shorter the URL, the better it looks. Also, Shorter URLs eliminates all possibilities of misunderstanding the intent of the page. In fact, according to research, short URLs tend to get better position in search results. Not only that, they have a better chance of being shared on social.
3. Utilize Hyphens Instead of Underscores
Separate illustrative words in your URL to make it more readable for users and web crawlers. A recurring discussion in the SEO community has been hyphens versus underscores and which configuration Google prefers.
Search engines treat hyphens and underscores differently when indexing URLs. Hyphens are viewed as word separators that improve URL comprehensibility, while underscores are treated as word joiners.
Google would understand https://www.domain.com/seo-friendly-url-structure as 'seo friendly url structure'. Conversely, it interprets https://www.domain.com/seo_friendly_url_structure as 'seofriendlyurlstructure'.
Obviously, using hyphens not only makes it easier for Google to peruse your URLs, but also less confusing. And Google has also described how underscores and hyphens must be used in its guidelines for simple URL structure.
4. Use Lower Case Letters and Standard Characters
URLs that are optimized for search engines add to readability. Thus, URLs with lowercase letters and standard characters is the best practice for improving internet search engines rankings. When uppercase letters are blended with lowercase letters it creates untidiness. Additionally, this structure confuses web crawlers and searchers, so avoid using them.
Usually, non-standard characters in URLs are the ones we find in dynamic URLs like #, @, and %. Some CMSs will likewise add non-standard characters to files like PDFs. So be sure to check the structure before sharing your URLs.
Structured URLs like https://www.domain.com/BeSt&-Website%-#Design-%ComPanies can create a lot of problems.
Whereas, using https://www.domain.com/best-website-design-companies is ideal.
Wrapping It Up
While it might seem simple enough on paper, the URL structuring procedure can be very tedious. Especially when building a website from scratch. There are a few factors that must be considered while organizing URLs to conciliate both web indexes and human users.
It begins with specialized perspectives like choosing a top-level domain. And don't forget about an SSL certificate so users know that your site is protected. Then you should find the ideal number of characters to guarantee that your URL has human readability.
Obviously, you need to ensure that you're accurately focusing on your keywords without compromising the URL length.
You may also enjoy reading: 8 Questions Every Website Design Should Ask Clients
About the Author
Hazel is the Founder & SEO Director at Envisager Studio, a premier website design agency specializing in WordPress website design, development and internet marketing. In her spare time, she writes about search engine optimization, website design, and internet marketing.
Facebook | Twitter | YouTube | LinkedIn