Envisager Studio creates Café Restaurant website design all over San Diego. One of the best things we can say about Envisager Studio is that many of our customers are repeat customers. And, they also appreciate our hight standards of service.
Restaurant Website Design
A cafe or restaurant benefits immensely from an elegant looking website. If you are in need of this type of website, Envisager Studio specializes in cafe and restaurant website design. Owners of coffee shops, cocktail bars and restaurants, can benefit greatly from a cafe restaurant website design by Envisager Studio.
Cafe Restaurant Website Designer
Our Cafe Restaurant Website Designers are experts in creating custom slideshows with beautiful photos of your culinary creations. We are adept in creating websites that showcase your specialty dishes in an aesthetically pleasing way.
In fact, to show you check out our latest work of art; Jane's Cafe in Mission Valley.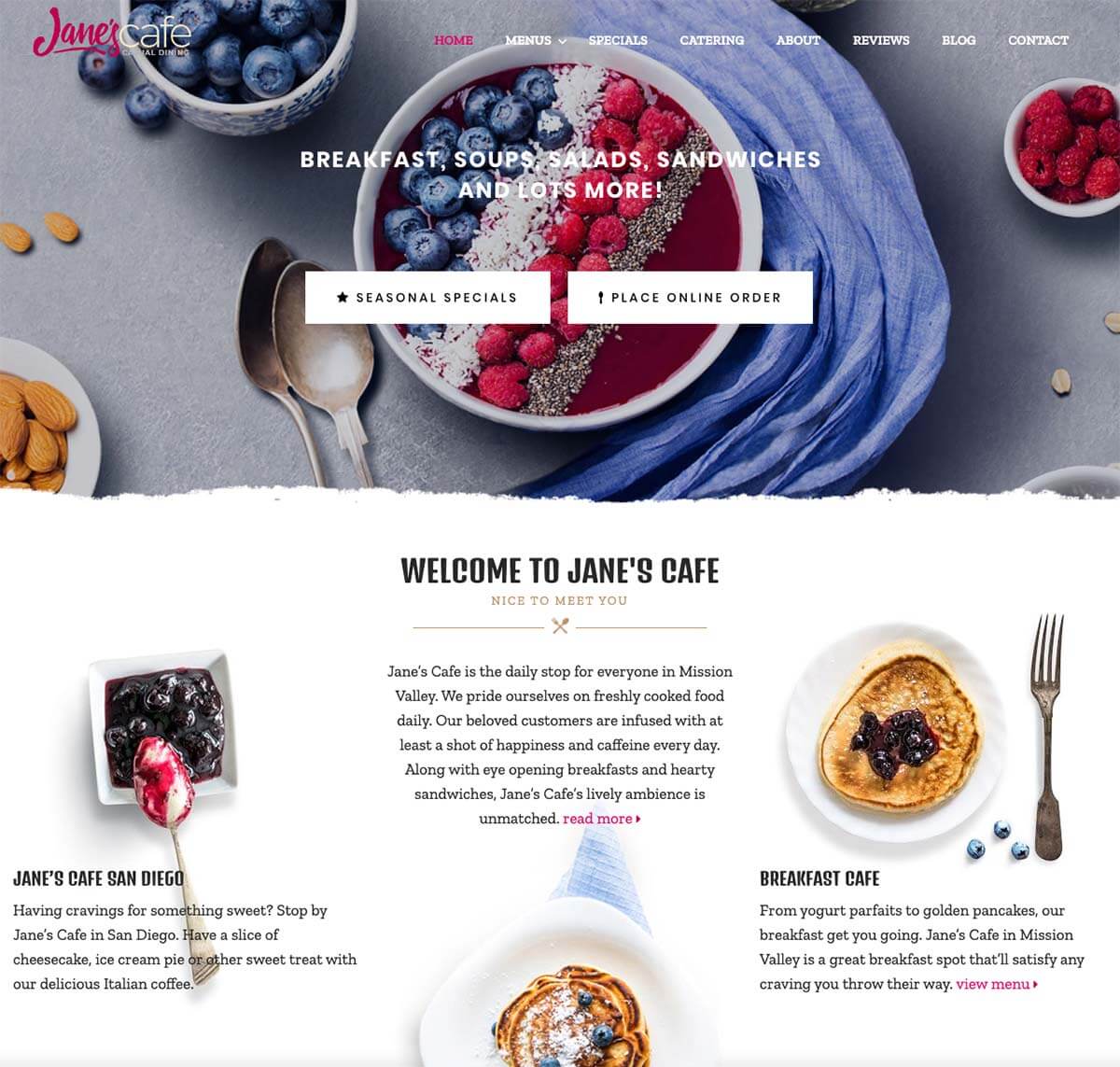 Smooth scrolling customized menus make it easy for your customers to navigate your latest mouthwatering masterpieces. Colors are used to blend your website with your cuisine which are taken from the style guide we create for you.
A coffee shop website many use a various shades of dark brown to blend with the rich dark brown coffee you may serve. However, if you are serving smoothies, we will use navy blues, strawberry reds, etc. to blend with the fruit colors. This further enhances the customer's senses of your exquisite food food so they begin to taste it.
Cafe Restaurant Website Company
Our restaurant website designers understand what it takes to build a cafe food website. Envisager Studio is the leading Cafe Restaurant Website Design Company in San Diego providing cafe website design services. A restaurant business very much needs a well designed website to enhance their business. More often than not, people order food online. Therefore, our website designers aim to create your business website to give your business a boost online.
Restaurant Website Design San Diego
Cafe restaurant website design San Diego expert designers creates outstanding cafe restaurant website designs. Additionally, we incorporate various features into your website such as advance search, live chat, email list collection capability, and much more. If you selling products or services, we can also integrate an ecommerce system, complete with payment gateway and shopping cart. But, no website is complete without search engine optimization. So, as we build your website, your content and copy is implemented with SEO in mind. Bottom line, our Web Designers have have decades of experience and offer Cafe-Restaurant Website Design according to your requirements.
Does your cafe or restaurant need a modern website design to compete online? We can help! Get in touch with us online, or call us at (858) 874-6528.
You may also enjoy reading: 5 Business Types That Benefit The Most From Local SEO