There are many web design companies in San Diego. But, web design is an under-appreciated component of a company's online presence. Many businesses believe that just having a website is enough. However, digital first impressions matter. And, well-made sites drive traffic, boost business, and keep people coming back.
We constantly strive to push the boundaries and innovate. And, we hope to lead others forward in our industry.
Envisager Studio Leading San Diego Web Design Agency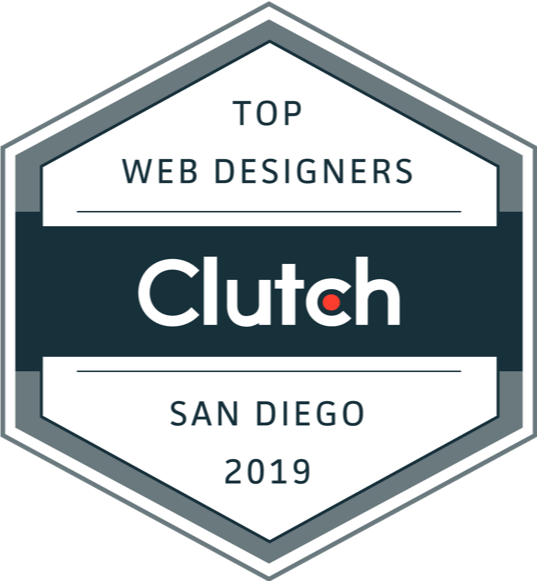 We are excited to share that Clutch has named us one of the top web design companies in San Diego. Clutch is a leading platform for market research and verified client reviews for B2B vendors. They conducted in-depth research on nearly 300 of the top web designers in San Diego. And, it thrilled us to learn they featured us among the top ten, earning us the title of 'industry leader'.
Envisager Studio Clutch Reviews
The method of this industry research was thorough. Factors included marketing presence, company portfolios, and most importantly, and verified client reviews. In 2019 alone, we have already received four verified client reviews. This has earned us a rating of 4.9 out of five stars.
Plus, receiving detailed feedback from our clients is an amazing opportunity. Therefore, we are incredibly grateful to hear our clients share thoughts such as these:
"Throughout my career, I've worked with several web designers. Envisager Studio is hardworking. I appreciate their thoroughness and dedication."
Kristine Bockholdt, Practice Manager
Magnolia Medical & Aesthetics
"They were very responsive, timely, and easy to work with. They did a lot of work independently, with minimal input from me. Also, they put a lot of their time and effort into my website and my blog."
Rosalin Coleman, Owner
VIP House Of Hair Beauty Supply & Salon
It thrills us to have built such a strong base of reviews already. And, we eagerly await the arrival of other reviews from our clients. Meanwhile, we will use this feedback to continue to innovate and improve our services.

Top Web Designers San Diego
Our featured top web designers San Diego recognition is great! But, we're also recognized as a top digital partner when compared to firms around the world.
On Clutch's sister-site The Manifest, they recognized us as a top firm among some of the world's best web designers. This is thanks to the consistent quality of our work and our cost efficiency. The Manifest provides industry insights and how-to guides for firms of all shapes and sizes. And, we count ourselves fortunate for this recognition as a top firm.
Also, the quality of our web design work is further shown on our Visual Objects profile. A portfolio sharing site for service providers in several industries. We're hopeful that our increased presence encourages others to invest in their online presence.
We are extremely honored to receive such an important award as a '2019 Clutch Leader'. Winning this award would not have been possible without a roster of fantastic clients. Each is focused on being the best in their industries. Their inspiration is one of the driving forces in our dedication to providing the best user-friendly websites. The other reason is that we love what we do!
You may also enjoy reading: Grow Your Business Online With Video Marketing
About the Author
Hazel Burgess is the Founder and Creative Director of Envisager Studio, a premier website design agency specializing in WordPress website design, development and content marketing promotion. The company is based in San Diego, CA and works with companies that range from small business to enterprise level. Follow @EnvisagerStudio on Facebook as well as Twitter.