Just because you're a busy small business owner does not mean components of your small business website have to be lacking. Website design agencies like Envisager Studio include important design and functionality elements to help you succeed online.
Many small businesses invest in social media marketing and feel like having a business website is inessential. In fact, of the 31.7 million documented small businesses, 8 million are website-less.
To discover just a static is both astounding and frightening. Think about it. You're leaving your online presence up to chance while simultaneously boosting some other business' website. Namely, the social platform that you're using as your business website.
And here's why this is such a bad idea. Your clients and customers do not have a go-to place for your marketing efforts. Additionally, they can't find information about what you offer, who you are, or what you do! Not to mention the fact that you're not standing out from the competition.
Here's what we tell all clients:
Your website is the foundation for everything you do online. Everything should come from and/or go back to your website.
Click To Tweet
In short, it takes more than just plopping your information online. You need the right components for a successful small business website and make it a go-to place for customers and clients.
5 Components of a Successful Small Business Website
Most small business owners lack the interest or time to understand the basics of online marketing, web design, and SEO. And we get that. After all, you're dealing with the day-to-day of operating a business.
However, once you've established a solid foundation for your marketing strategies, these tasks are usually outsourced. Consequently, website design and launch holds to the same principals.
With this in mind, you don't have to leave the success of your online presence up to chance. Below you'll find 5 components of a successful small business website that will help you stand out.
1.

Design That Delivers An Optimal Experience

Customers assess your business long before you even realize it. As such, meeting clients face-to-face is generally the second or third chance to make a great impression. Why? Because they've met you already online at your website.

Nearly 40% of website visitors form their opinion of a business based on their first experience with a website.

Consider these five components for a lead generating successful small business website:
MOBILE-FRIENDLINESS. Most consumers in the U.S. search for local businesses using their mobile devices. After finding your business, they'll want to learn more about your business. For this reason, an inadequate mobile website experience can impose more damage than just turning them off. Therefore, your website should be optimized for mobile viewing with appropriate font sizes and easy navigation.
DESIGN. While animations do make websites more engaging, they are unnecessary for mobile devices. Instead, opt for a clean, professional site that provides visitors the information they want easily.
CALLS TO ACTION. Once visitor get the information they came for, you'll need to nudge them in the sales direction. This is where that methodical CTA can get visitors to buy or book an appointment.
INFORMATION. When people visit your website, they're looking for information. Make sure you're detailing pertinent information. For example, your business background, hours of operation, contact as well frequently asked questions.
SPEED. None of the above matters if your site takes too long to load because visitors will leave before taking any action. There are many ways you can boost your site speed. For instance, smaller image file sizes. Even after images are uploaded, use an image optimization tool to reduce the size more. You should also use caching tools. Pushing important non-graphical information above the scroll point will also cut down on slow loading speeds.
2.

Content That Attracts Customers

If you're wondering how potential customers find business websites, the answer is 'content'. By adding new and relevant content consistently, you can improve your search engine rankings.

Don't know what to create? Here are a few ideas for content that's worth adding to your website:
Business Blog

eBooks

Videos

Podcasts
Although content does drive traffic to your site, don't expect that's all you'll need to do. Of course, if you're just looking for about 400 visitors per month, then you're good to go. But for higher metrics, consider boosting some of your posts on social media. This is an inexpensive way to gain more exposure as well as drive sales.
You should also use web analytics tools to get an overall view of what's working and what's not. Google Analytics gives you a complete picture of traffic through social media, search engines, marketing campaigns, etc. This tool also lets you see where visitors are spending the most time on your site.
Google Search Console is also a valuable metric tool to use. With it you can measure for SEO that drive traffic through search engines. In essence, see which search queries and keywords are driving the most traffic to your website.

93% of consumers use online search to find local businesses.

3.

Information That Builds Trust

Don't expect customers to readily swipe their card without feeling they have faith in you as a provider. After all, every business transaction is an act of trust. For this reason, you'll need to offer them something to believe in. So, make sure your website shares information about your business and what it stands for.

When looking to build trust on a business website, these two items offer significant support:
ABOUT US PAGE. Above all, this is generally the most viewed page on a business website. This is because people visiting your website want to know more about your business. What's makes you stand out from the competition? Or what does the spelling of your business name mean? Again, people pursuing your website are looking for answers. Moreover, including humanizing touches like staff photos help establish an emotional connection.
REVIEWS. Providing reviews on your website allows potential clients and customers to see what others think about your business. You can even use a plugin to embed your reviews from Google, Facebook, and Yelp on your website. Quickly addressing negative review show customers you care about the quality of service your business provides. And that you're also devoted to rectifying issues. So, make sure to keep an eye on all reviews. Additionally, you can add a review link to your automated marketing and invoices. This makes it easy for customers to post their reviews. Google even provides a link generator so you can send customers exactly to where they can leave a review.
4.

Helpfulness – Components of a small business website

As shown above, your customers want answers. So, don't make them hunt for it. If customers can't find what they're looking for, both you and they have missed opportunities.

Given these points, here are three ways you can provide helpful information to your website visitors:
SIMPLIFY YOUR WRITING. Your visitors are not all professionals. That's why they hired YOU because they have other things to do. So avoid aloof jargon when explaining your benefits and services.
PROVIDE UNIQUE DETAILS. Do you offer custom made items? Can customers schedule late evening appointments? These details will help you stand out from the competition and land your ideal client.
INCLUDE FAQS. An faqs page allows customers to get answers immediately. Then, if their question and answer is not provided, they can always contact you.
5.

Engaging Action Items

Whether your website offers m-commerce, information, or services, the goal is to move the visitor towards a sale. If you're not doing this, you're missing out on opportunities. But you're not alone though.

In fact, less than 50% of websites have a clear call-to-action button that takes users 3 seconds or less to see. Call-to-action (CTA) items tell website visitors what you want them to do next. And when they do, that conversion helps your click-through rate, which further improves your search engine ranking.

However, CTAs are not the only way to engage website visitors. For some, special discount offers are all they need to try out your products or services. But not everyone will be ready to dive into doing business with your company. Even so, these people still have the chance to engage with your website through content they find useful.

We hope knowing the components of a successful small business website has been helpful to you. Now, sell your business as the 5-star platform you know it is. People are looking for business they can trust. So, make sure yours is one of them!
About the Author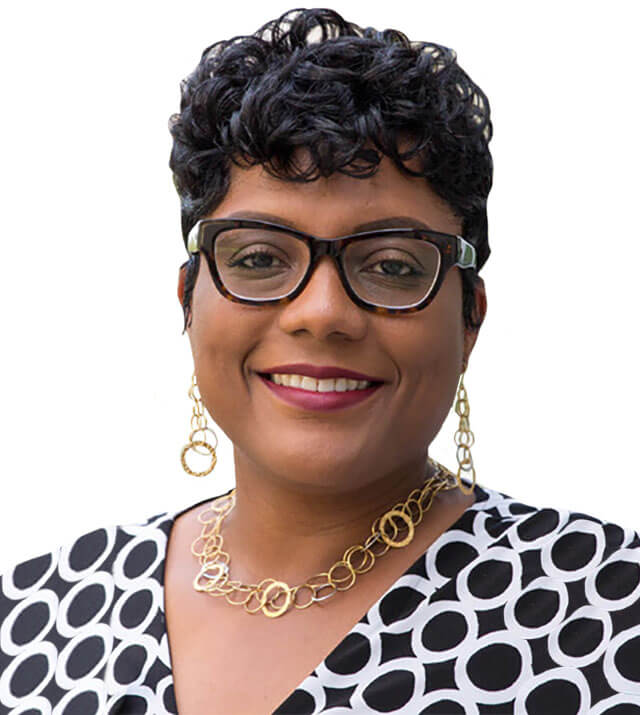 Dr. Amelia Royster-Davis is a Doctor of Education and an Instructional Designer. As the Director of Web Development at Envisager Studio, her primary focus is to lead the web development team in building modern, responsive websites. In her spare time, she writes about web development, UI and UX.