Yes, there is a difference between internet marketing and digital marketing, including how companies allocate their marketing budgets.
Internet Marketing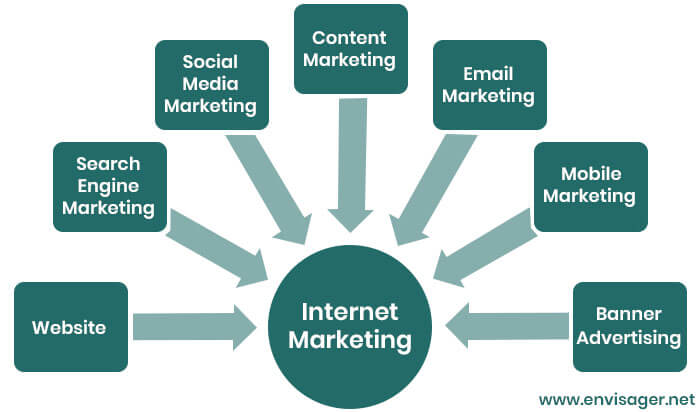 Internet marketing is a subcategory of digital marketing. Given that the majority of digital marketing falls within the environs of Internet marketing, Internet marketing is possibly the most important component.
We will discuss below the relationship between Internet marketing and digital marketing and how their perspective budgets are spent.
The main channels of Internet marketing are:
Website – Either a business website or personal website or even a blog hosted on a content management system like WordPress or blogging platform like Ghost.
For many campaigns, a website is the entry point and the destination. For example, you run an Internet marketing campaign to promote your website (entry point) with the goal of driving more visitors to it (destination).
Search Engine Marketing (SEM) – Search Engine Marketing is the foundation of Internet Marketing. It is the process of driving traffic and visibility via search engines using both paid and unpaid methods. Search Engine Marketing includes — SEM: Buying traffic using paid search listings or SEO: Earning traffic organically or through free listings. Sometimes these two terms can be a bit confusing, so check out our additional articles for more clarification and insight:
SEO vs PPC: Which Is Better For Your Business?
SEO and SEM: Working Hand-In-Hand
In short:
SEO deals with achieving higher rankings in search engines by using optimization techniques. The two main elements of SEO are 'On-Page SEO' and 'Off-Page SEO'.
Paid search gets visitors to your website by means of paid advertising; paying for ads to show on search engines. The most used paid method is Pay Per Click (PPC) and the most popular tool is Google Adwords which allows you to advertise on Google and its partner networks.
So, search engine marketing deals with various promotional methods related to search engines.
Social Media Marketing (SMM) – Social media marketing is another component of Internet marketing and strategies have changed quite a bit over the past since its inception.
With 30% of Generations XYZ engaging with a brand on social at least once per month, lacked social media marketing strategies won't cut it in 2018. The other 70% spend a great deal of their online time on social channels such as Instagram, Facebook, Google+, and Twitter and on other media platforms like LinkedIn. This activity was an eye opener for digital marketers; prompting them to incorporate social media into their digital marketing campaigns.
Content Marketing – Content marketing is a strategic marketing approach focused on creating and sharing content for a specific online audience. This content is the basis of SEO; the better content you create and distribute, when shared leads to a better Internet presence for your business.
Email Marketing – The email marketing component is similar to direct mail except that instead of sending mail through the postal service, your content (newsletters, offers, etc.) is sent electronically via email. Email marketing is still a highly effective tool that should be included in each Internet marketing campaign. In spite of social media, email remains one of the most efficient ways to reach and convert readers or subscribers into customers.
Mobile Marketing – In 2017 mobile phone users accounted for 50.3% of all web traffic generated worldwide. You can see how well your website is performing for mobile devices by checking your Google analytics reports.
Mobile marketing is the process of creating content that is easily viewable on smartphones, tablets and other mobile devices. Examples of this are (1) responsive websites that automatically resizes the pages' content to fit the screen of the device it is being view on and (2) advertisements that are shown on mobile devices per location to offer up the nearest shop that sells a particular product.
Banner Advertising – You have most likely seen these, probably on every other website you visit. Banner ads are placed just about all properties — websites, search engines, social platforms, mobile apps, etc. Banner advertisements can be in the form of videos, text, images, and animations.
Digital Marketing
Digital marketing is a broad term that encompasses a set of marketing processes. Businesses and digital marketers use digital channels such as their websites, social media, email, as well as search engines to connect with their prospective and current customers. Digital marketing has nearly replaced traditional marketing and the move from newspaper ads to PPC campaigns and social platforms.
How Companies Allocate Their Marketing Budgets
A good way to get an idea how the larger companies allocate their marketing budgets is to take a look at a recent digital marketing spending report. it is obvious that the majority of digital marketing budgets are spent on Internet marketing components.
Wrapping It Up
It is important to know that Internet marketing is a subcategory of digital marketing. As a reminder, digital marketing includes Internet marketing and the addition of digital advertising, short message service marketing (SMS) and Web TV. Looking to start an Internet marketing campaign or need help with your current strategy? Get in touch with our friendly team today at (858) 874-6528 or get a quote.
Don't forget to leave your comments and questions below, and we promise to respond to each of them.
About the Author
Hazel Burgess is the Founder and Creative Director of Envisager Studio, a premier website design agency specializing in WordPress website design, development and content marketing promotion. The company is based in San Diego, CA and works with companies that range from small business to enterprise level. Follow +Hazel Burgess on Google+ as well as Twitter.