Content curation can be an important tactic to keep your business at top of the social web. It takes time to consistently create original, high quality content to share with your followers. Relevant and interesting information to keep your current customers and future readers engaged with your business requires comprehensive knowledge of your industry and dedication to the creative process.
Not all businesses can afford to dedicate a single employee solely to the creation of high quality content, especially if you're a small business. But let's face it, your customers and online audience follow your business based on an expectation of quality content in return. If you don't have the resources or time to create interesting, helpful and insightful content, try content curation.
What Is Content Curation?
Content curation is the process of discovering, filtering, and sharing the best content on the web in an organized an meaningful way. Don't just like and share content you find on Facebook and other social networks. Add your own insights to everything you share and most importantly, connect the relevance of the content to your business or industry.
Content curation is not the same as content marketing. They differ in that content marketing includes creating new content (by you) whereas content curation is a compilation of existing content from various sources and does not include creating new content.
Content curation is becoming a widely used strategy for many marketing departments to maintain a more robust online presence. Additionally, content curation allows your business to offer extra value and insight to your brand's customers and broader audiences. This can be instrumental to building long-term relationships and loyal fans.
When Should Your Business Use Content Curation?
While the content curation process includes discovering and sharing content from various sources, that content should always align with your business marketing strategy. It's not just about sharing all kinds of content you stumble upon. It's about setting goals and focusing on specific topics you want to curate content about so that your content is audience-focused.
There are many reasons why you might want to use content curation, but keep in mind it should be part of your overall marketing strategy. The main objectives of content curation is to boost SEO, elevate your brand's visibility, and establish thought leadership. While there are many methods of content curation and depending on your marketing strategy, the following two content curation methods could meet the needs of your business goals.
[ 1 ] Blog Posts Sharing Industry Content
Hootsuite publishes a weekly recap of top social media and technology news from the previous seven days. Most of the articles are derived from other sources. By compiling them into a single resource, it saves Hootsuite's readers time from having to scour the Internet searching for each individual article and it reinforces Hootsuite as a trusted source that cares about and understands its audience.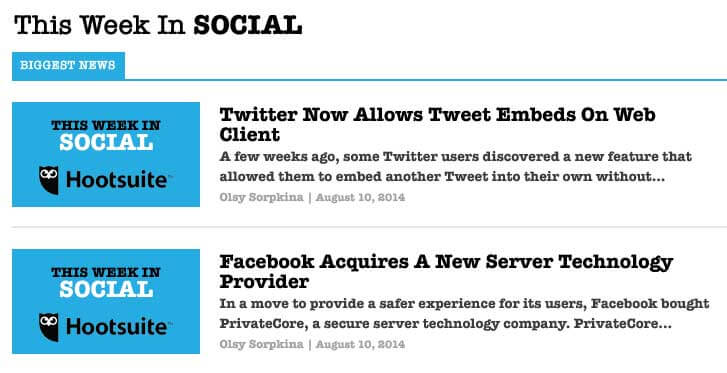 [ 2 ] Weekly Repurpose eNewsletters For Opt-in Subscribers
Repurposing and consolidating content weekly that was published on other channels from various website sources (blogs, social news, press releases, online magazines, product updates, etc.), can be a convenience for your audience to be able to receive content of interest in one place.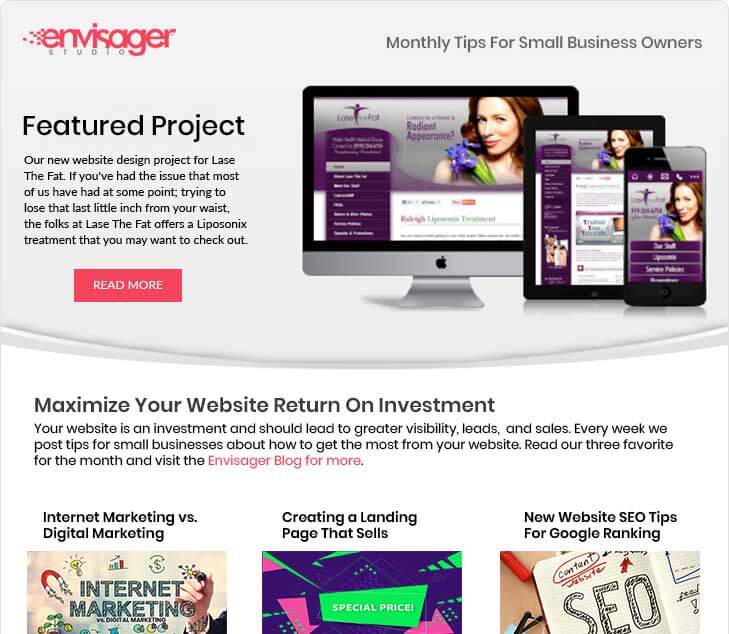 Wrapping Up
It takes time to generate quality content and not all small businesses can afford to dedicate personal to this single area of marketing full time. Content curation is an effective way to fill in the gaps of your existing content marketing strategy. If done right, it can increase your search engine traffic and generate leads, while extending your reach for your brand, ideas or products.

About the Author
Hazel Burgess is the Founder and Creative Director of Envisager Studio, a premier website design agency specializing in WordPress website design, development and content marketing promotion. The company is based in San Diego, CA and works with companies that range from small business to enterprise level. Follow +Hazel Burgess on Google+ as well as Twitter.