BRAIDS YOUR WAY
| LOS ANGELES, CA
Project Type: Website • Branding • Marketing
Client Showcase
BRAIDS YOUR WAY
| LOS ANGELES
Project Type: Website • Branding • Marketing
Braids Your Way, Inc. is a hair braiding salon with locations in Victorville and Los Angeles, CA. This is one of the top hair salon websites online to-date. With two lively locations, they needed our braiding hair salon website design expertise to authentically highlight their skills.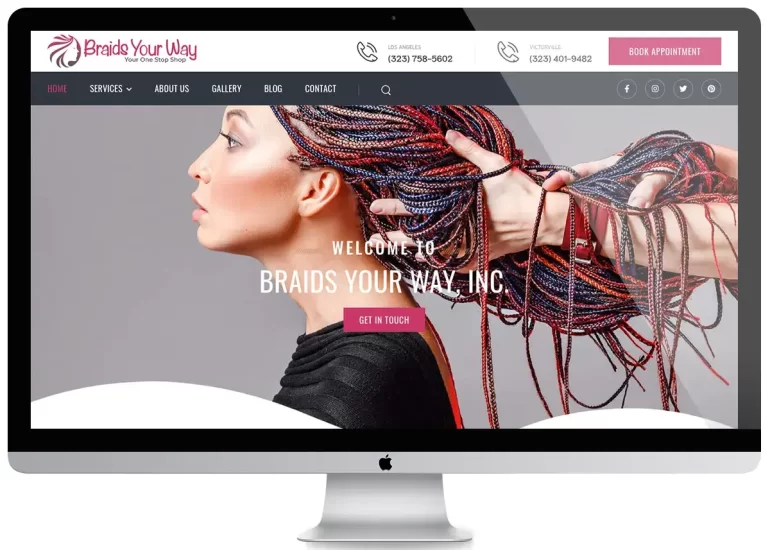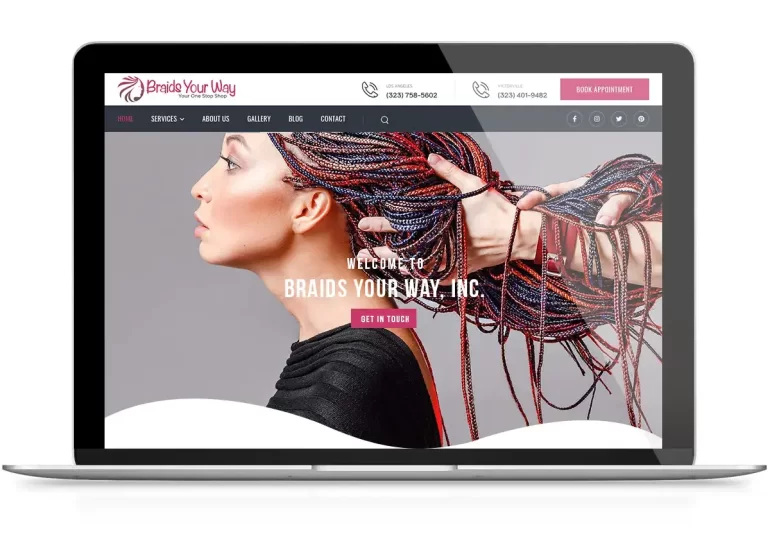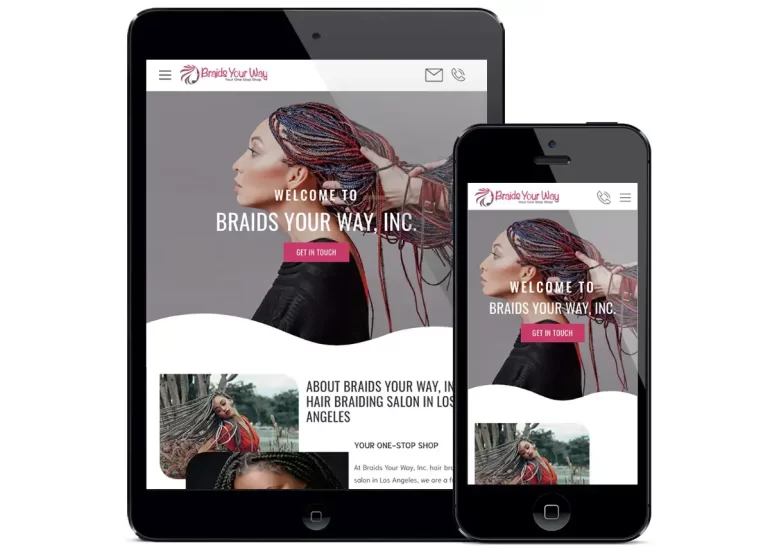 Braiding Salon Website Design
These days, a braiding salon is one of the most popular types of beauty businesses that need website design. For this reason, Braids Your Way partnered with Envisager Studio to build an interactive and dynamic braid salon website design. Their goal is to showcase their work as well as provide information for various braiding services they offer. Additionally, promote their other services like kid styles, weaves and styles for men.
To begin with, we first created a brand style guide. Next, we enhanced their existing logo. After that, began the website development. Our services included unique layouts, responsive design, custom graphics, extensive on-page SEO and more. As a result, this is one of the top hair salon websites that's uncluttered, aesthetically pleasing, and optimized for search.
Additionally, we used our WordPress experience to build an online destination that potential clients are drawn to. Not to mention, book appointments! With an optimal user experience, custom booking system, photo gallery for days of browsing and much more – all in a responsive design.
If you're looking for top hair salon websites, with a professional presence, we can help! Get a glimpse of what we can do for your hair salon business by visiting Braids Your Way, Inc. website.
WEBSITE DESIGN & DEVELOPMENT
Art Direction
Web Design
Custom Graphics
Brand & Identity Integration
UI & UX Design
PHP / HTML / CSS
WordPress CMS
Website Features
Custom WordPress
Stunning Graphics
Email Sign-up
Mobile Responsive Design
Custom Booking Form
Unique Header Designs
E-commerce (coming)
Promotion
MailChimp Integration
Custom Blog
On-Page Thorough SEO
Extra Design Elements
Digital Art
Stock Photography
Photo Editing & Enhancement
WEBSITE DESIGN & DEVELOPMENT
Art Direction
Web Design
Custom Graphics
Brand & Identity Integration
UI & UX Design
PHP / HTML / CSS
WordPress CMS
Website Features
Custom WordPress
Stunning Graphics
Email Sign-up
Responsive Design
Custom Booking
Unique Header Designs
E-commerce (coming)
Promotion
MailChimp Integration
Custom Blog
On-Page Thorough SEO
Extra Design Elements
Digital Art
Stock Photography
Photo Editing & Enhancement



Braids Your Way Hair Salon
12.18.22