Client Showcase
BALLIN' FOR PEACE
| SANTA MONICA, CA
Project Type: Website • Branding • Marketing
Client Showcase
BALLIN' FOR PEACE

SANTA MONICA, CA
Project Type: Website • Branding • Marketing
Ballin' For Peace in Santa Monica, CA is a non-profit organization focused on at-risk youth programs. They provide recreational activities, health and educational services for at-risk youth and adults in the community.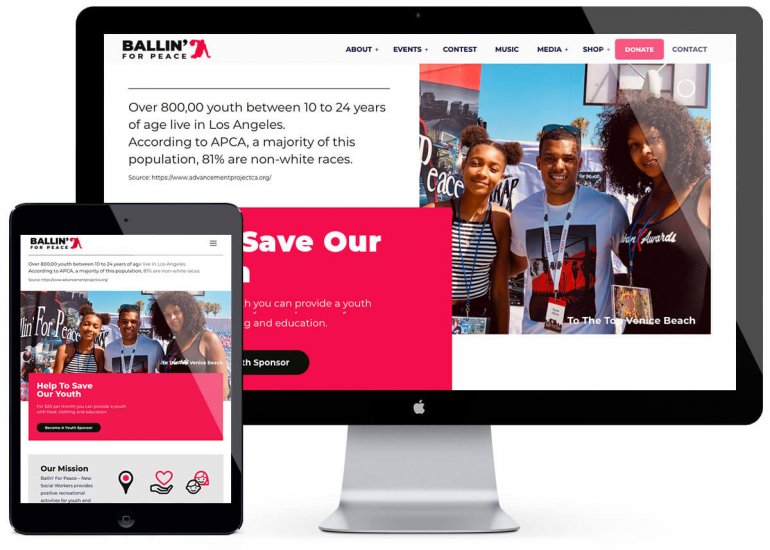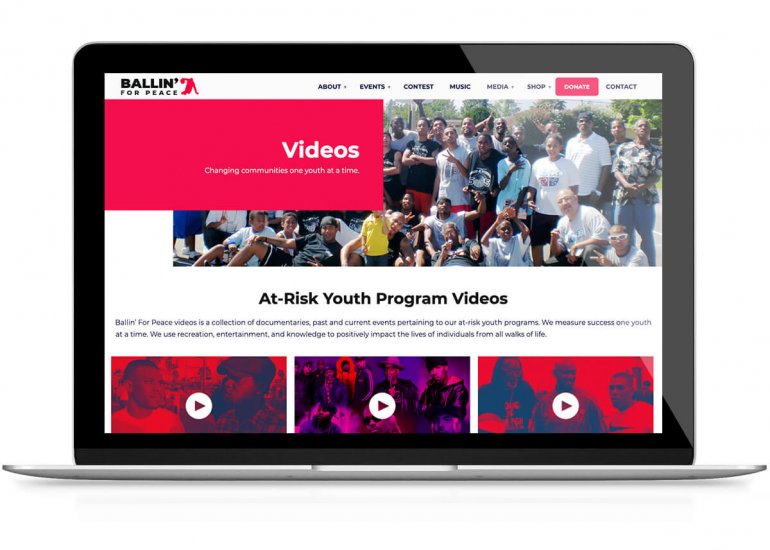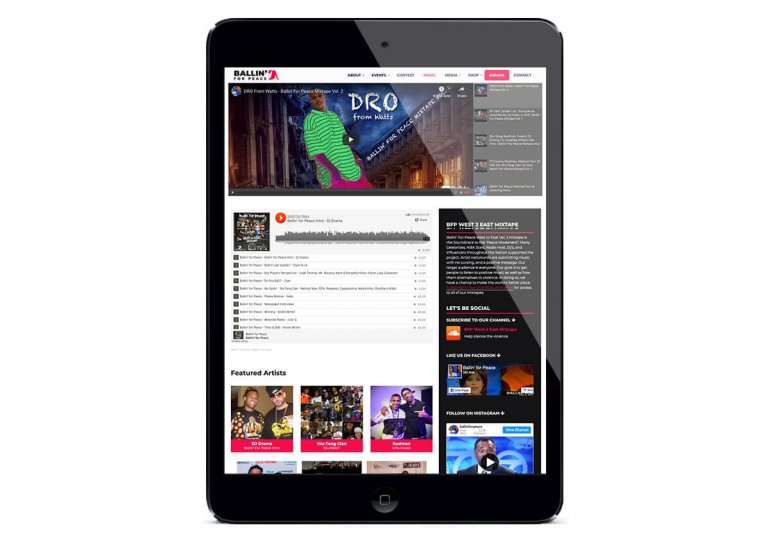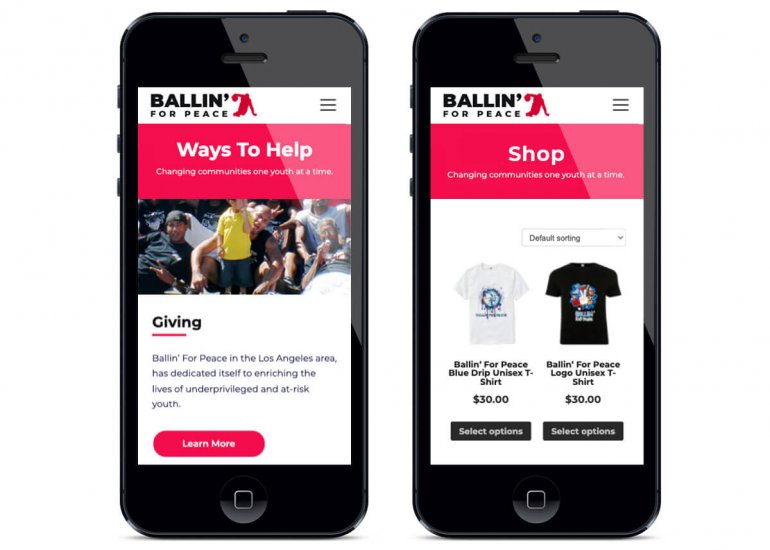 Best Website Designer for At-Risk Youth Programs
Ballin' For Peace at-risk youth programs empowers youth through positive activities and mentoring. As the best website designer company in San Diego, they approached us to design a website for their organization. They also wanted their new website to look different than the traditional non-profit website designs.
Non-Profit Website Design Services
One of the main criteria for the project was to create a non-profit website design that is unique to others. So, we chose red cream berry and black colors to evoke a sense of urgency for their at-risk youth programs. Additionally, much of their storytelling is presented using videos and audio. So we designed a spectacular music page featuring some of their NBA players, entertainers and community leaders supporters. The ways people can help section is meticulously organized by graphical elements that are linked to each corresponding page. We also designed a blog as a content marketing strategy to get better results than its high-cost sponsorship marketing. Overall, their new website focused on at-risk youth programs is clean with a polished design and detailed content. But not only that, it also commands the attention of potential sponsors.
WEBSITE DESIGN & DEVELOPMENT
Art Direction
Web Design
Custom Graphics
Brand & Identity Integration
UI & UX Design
PHP / HTML / CSS
WordPress CMS
Website Features
Static Header Designs
Online Donations
Revolution Slider
Mobile Responsive Design
Blog
SPAM-Protected Forms
Branded Auto-Responders
Promotion
MailChimp Integration
Social Media Icons
On-Page Thorough SEO
Extra Design Elements
Digital Art
Stock Photography
Photo Editing & Enhancement
WEBSITE DESIGN & DEVELOPMENT
Art Direction
Web Design
Custom Graphics
Brand & Identity Integration
UI & UX Design
PHP / HTML / CSS
WordPress CMS
Website Features
Static Header Designs
Online Donations
Revolution Slider
Mobile Responsive Design
Blog
SPAM-Protected Forms
Branded Auto-Responders
Promotion
MailChimp Integration
Social Media Icons
On-Page Thorough SEO
Extra Design Elements
Digital Art
Stock Photography
Photo Editing & Enhancement



Ballin' For Peace Santa Monica
01.28.21