Foursquare and Facebook have similar features for their check-in services, including free use for personal and business, however, Foursquare has many functionalities that sets their check-in service apart from Facebook check-in.
If you're not familiar with Foursquare, it's a location-based social app that is most commonly found on mobile devices such as smartphones and tablets. The app allows people to "check-in" at venues using a mobile website, text messaging or a device-specific application by selecting from a list of venues the application locates nearby.
As a business, you should make good use of Foursquare's reviews feature by leaving worthwhile, fun, and interesting tips for your followers. Your users will feel as though their getting some kind of "insider information" when after they leave a review and it encourages users to recommend your business.
Reward Your Foursquare Customers
When customers check into your business on social app, reward them instantly with a prize, discount, or mobile coupon when they check-in to your business, and even if they check-in near your venue.
Have You Viewed Your Foursquare Venue Stats Lately?
Yes, this platform offers a venue stats service for businesses, and it's free. As most business owners would agree, the ability to gather statistics for your business is invaluable. Using the Foursquare's venue stats feature, you can study the time of day people check-in, the gender breakdown of your customers, and more. Not bad for free, right?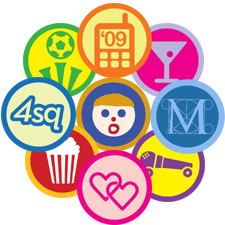 Foursquare Badge Rewards
If you're not familiar with Foursquare badges – basically a user earns Foursquare badges depending on the number of check-ins that's related to their check-in activity. Foursquare now offers badges to brands through the new Partner Badge Program. The badges are specifically for a business' followers, allowing brands to be more creative with their marketing and promotional campaigns. Now your brand or business can have more fun rewarding your followers!
Get A Custom Page On Foursquare
They are currently working on a new feature that will allow businesses to create a custom page on their site. It will be a self-service feature, which is great so that businesses can brand their pages as much as the feature will allow. There is no estimated completion time for the availability of this feature, but if you fill out a form, Foursquare will manually create a page for you. However, we recommend that you want for the self-service feature so that you can brand the page as much as possible, and it actually may take Foursquare a while to manually create a page for you.
Is Your Business On Foursquare?
If you don't already have an account for your business, it's super easy to set one up. Just go here/business and create your account.
Once you have your account set up, search for your business in the search bar provided. From there, click the orange "Claim this venue" button. To ensure you really are the business owner of the venue you're trying to claim, Foursquare gives you two options to verify this. You can either verify over the phone or within two weeks by mail.
What is your Foursquare inspirational story? Let us know below.